Marina - ADOPTED
ADOPTED: I have found my forever Mom!! Although in the past I have pretty much ignored people when they came to look at me this time I just knew this was my mom as soon as I met her! Instead of running circles around her this time I snuggled. Not only did my new mom choose me I chose her!!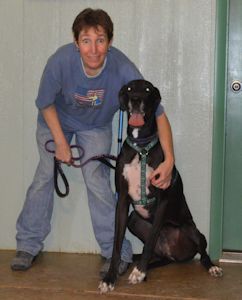 Best day ever!! My mom and me!!
Before Pictures & My Story Below
My sister "Mea" and I were dumped at the Franklin County Animal Shelter the day after Christmas. We had just moved here from Texas and now our owners have taken jobs so they will both be traveling and no longer had time for us. I was very stressed at the shelter so the nice people there immediately contacted Harlequin Haven Great Dane Rescue to come for us and within a few hours we were here!!
I figured Santa could not find me this year since we did not get any Christmas presents but apparently he knows more then what people think cause when we arrived at the rescue our new Grandma had tons of toys and soft beds waiting for us. Thank you Santa for the toys and chews!!!
I only weigh 85 pounds and Grandma says I have to gain 15 - 20 pounds before I will be ready for adoption. Well I gotta go play with my new toys!!
Update: I got weighed again I gained 6 pounds!!!
Update: I gained another 3 pounds!!!
Update: I am now ready for adoption!!! I now weigh 99.4 pounds!!!
Update: Since I am now ready for adoption I asked Grandma to take a new picture of me!! I am so beautiful!!
Update: Check out my new pictures!
Update: Yes I am still looking for my forever home although several people have thought they wanted me I did not want them! I want/need a home that is very active, I would love to do agility, go hiking and camping etc..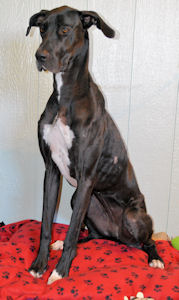 12/27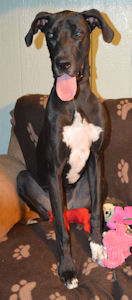 2/22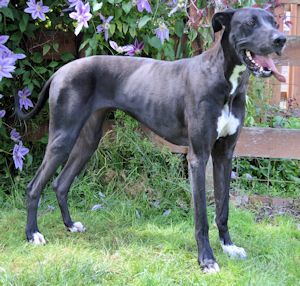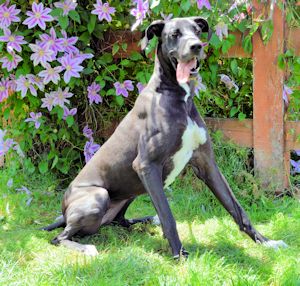 5/24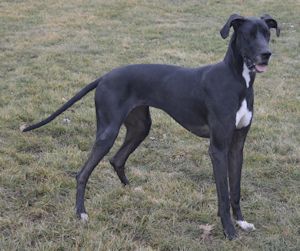 1/24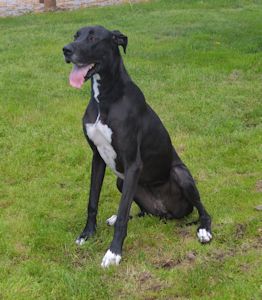 5/2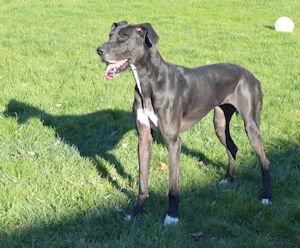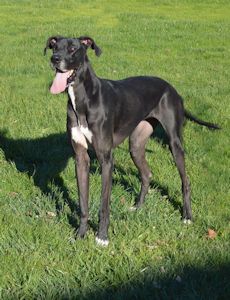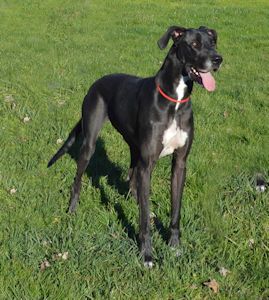 11/14

Date of Birth: 7/14/2012 Breeder: Fred Carl
Description: female, black with white marks, natural ears

All images and text on this site Copyright © 1998-2023 Harlequin Haven Great Dane Rescue, Inc. unless otherwise credited. Use of any image or text without written permission is expressly forbidden. All rights reserved.