Lisa - ADOPTED
ADOPTED: Wow, life is wonderful!! I have found my forever mom and dad, PLUS they also adopted my BFF's Jolene and Ihan NOW we are all a real family!! I will never be homeless or abandoned again!!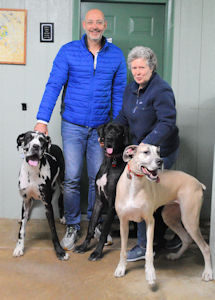 MY Family!!!
Before Pictures & My Story Below
I was found roaming in Clermont County and taken to the animal shelter. When my stray time was up, they called Harlequin Haven to come for me. The very next day I arrived here at the rescue. I have tons of toys and a soft bed and best of all we are fed 2 times a day plus treats!!! I love my food!! Plus, I have other Danes to play with, I love playing!! Yep, you got it I love eating and playing!!
Grandma said I am allowed to speak from the heart to my owners, she said it will help me heal.
To my previous owners: I hope you feel guilty for what you did to me! You can tell yourself that what you did was okay but HEY it is NOT okay to dump a dog alongside of the road to fend for itself!! Trust me NO ONE is stupid enough to believe I ran away from my home, nor did most of the dogs sitting in shelters across the USA right now!! I was DUMPED when you no longer wanted me, heck you treat yesterday's garbage better then you did me!! I am terrified that my next home will dump me just like you did, and if that is not bad enough, I fear I will never be able to trust a human again!! Let's be honest for one second, and I know being honest is NOT one of your better traits, IF I had ran away, a loving caring family would have looked for me, and I am a bit big to not be found!! Heck, the shelter held me 3 days hoping that you cared enough to come for me but SURPRISE, YOU DID NOT COME FOR ME! Yes, I have my issues, but HEY, so do you and I did not dump you!! Please do all dogs a favor and do not get another dog, we deserve better than you!
Update 10/24: I am now ready for adoption!! I can take a bit of time to warm up to new people but if you are gentle with me I will be gentle with you. I do love giving tiny kisses!!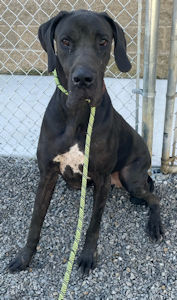 Compliments of Clermont County Animal Control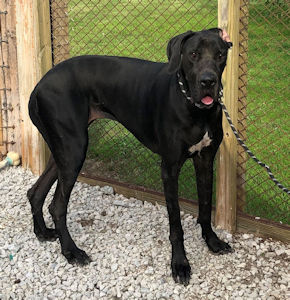 10/2
Date of Birth: 10/2018
Description: female, black with white marks, natural ears
All images and text on this site Copyright © 1998-2022 Harlequin Haven Great Dane Rescue, Inc. unless otherwise credited. Use of any image or text without written permission is expressly forbidden. All rights reserved.