Lilly
I was found roaming the streets of Columbus and taken to the Franklin County Animal Shelter. When my stray time was up and my owners had not come for me, the shelter contacted HHGDR to come for me. I was a good girl while at Rescue and was quickly adopted to a wonderful home! My family wants to write the rest of my success story so I will close here and let them tell the rest of my story!!
Hi I'm Charlie. No, I'm not a dog. Hello!! I am a cat. One of my humans has asked me to write a "success" story about Lilly, the Great Dane they adopted in August 2004. I don't know what my humans were thinking. All Lilly did was charge at me with her big tail whipping and muzzle flapping. One of my humans told me not to worry. He said it's not a dog. He said it's a person in a dog costume. But I could smell the difference. You know how all dogs stink and.......
Okay, Charlie. Thanks for trying to write about Lilly, but I'll take it from here. Lilly has been nothing but perfect. She's a big (well obviously) white, deaf, 3 year old beauty with a pink nose, blue eyes, and floppy ears. We live in Cleveland and she rode like a lady during a long trip home. She stretched out on the back seat and just occasionally got up to take a look and turn her body around.
When we got Lilly home it seemed like she had always lived with us. She got along instantly with our other dog, Marty. (Charlie hid for 4 months, not realizing that all Lilly wanted to do was be friends and ignore him.) Lilly immediately climbed onto one of the dog beds we got at the pet store. We got one for downstairs and one for upstairs. She uses them, but also uses any available soft chair, loveseat, or couch. At night she does sleep in one of her dog beds....until about 1:00 AM then she realizes my wife and I are in bed. Then Lilly comes upstairs and we feel a very gentle hundred pound plus dog get up on our bed. She always gets right between us and then spreads out and sighs. It's hard to tell a deaf dog (in the dark) to do anything, especially to get off a comfortable warm bed with 2 of her favorite people. So, most nights we sleep in weird back straining angles while Lilly sleeps like a baby.
Lilly will sometimes huff and puff a bit around strangers but only for a minute or two. Once she sees they are our friends she goes and does her favorite thing, she goes to lay back down. She likes to lay down with one of the shoes or piece of clothing, that belongs to one of the family members. I guess we smell really good, but sometimes a very dirty shoe can be found on a couch next to Lilly. I should add that she has yet to make any kind of mess (1 or 2) in the house. She hates to go out in cold weather, however. She will often charge toward the door to go out only to abruptly stop and run the other way as soon as she perceives it's cold outside!
What can I say? Lilly is a wonderful dog and has been a very natural addition to our family. We feel very fortunate to have her and are so grateful for the work that Harlequin Haven does to find homes for these great creatures.
Thank you Ken, Kelly and Collin Eiker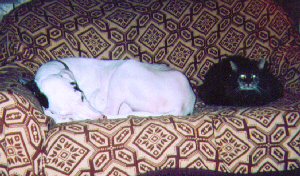 Charlie wanting to share my couch!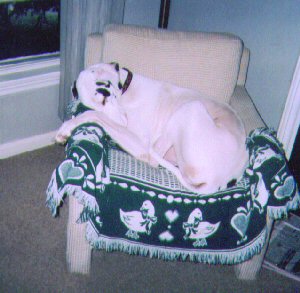 Yep this is my chair!!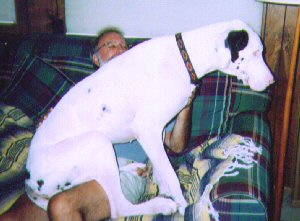 You are right again this is my dad sitting on my couch!!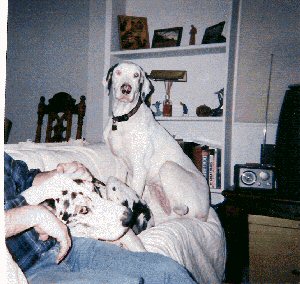 Okay Tommy my turn on dads lap!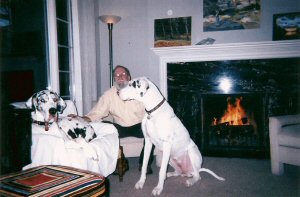 How come he gets the chair?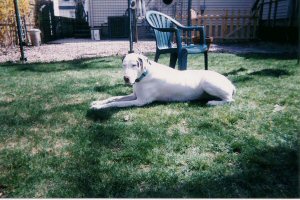 No mom I am not going to do a silly trick!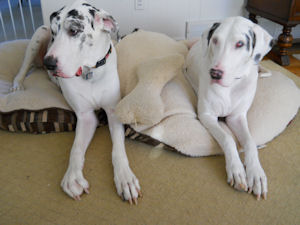 With age comes beauty and I am beautiful!!
All images and text on this site Copyright © 1998-2023 Harlequin Haven Great Dane Rescue, Inc. unless otherwise credited. Use of any image or text without written permission is expressly forbidden. All rights reserved.