Latrice - ADOPTED
ADOPTED: I have found my forever home!! I have 2 great dads and they promise to play with me and take me for walks and everything, plus I have 2 brothers to boss around and of course my dads will never be the wiser!! I can't wait!!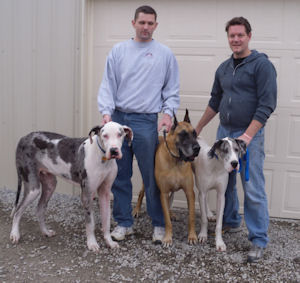 My new family!!! We are the best looking family ever!!!
Click here for more pictures
Before Pictures & My Story Below
My owners turned me into Harlequin Haven because I was to rough with their son. She said that I treated her son like he was my litter mate, he said I never bonded with there son. They said I would get overly excited when he came home from school and wanted to rough house with him just like we did when I was a little puppy.
Grandma at the rescue said I have no manners and do not understand the difference on proper playing because I have never been taught right from wrong!! Grandma also said that this is a common problem because humans do not think about when a puppy grows up that a Dane will be 100 plus pounds and not the cute little 30 pound puppy anymore!!! She also said that I can be trained properly that it is just sad that I was not trained correctly in the first place!!!!!!
I have learned how to play and I am a very sweet and loving girl, I am still working on my manners though. I am ready for adoption now hopefully I can find my forever home and they will continue to teach me my manners. Grandma says I could use to go to a obedience class to make my forever home a wonderful success!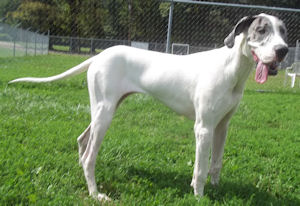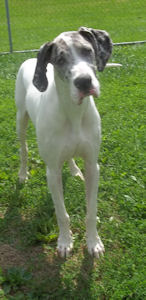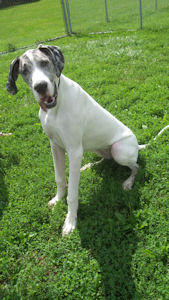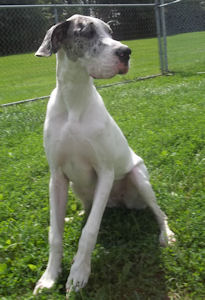 Date of Birth: 10/16/2010
Description: female, merle piebald, natural ears
All images and text on this site Copyright © 1998-2023 Harlequin Haven Great Dane Rescue, Inc. unless otherwise credited. Use of any image or text without written permission is expressly forbidden. All rights reserved.