Larissa - ADOPTED
I have found my forever home for real this time!! When I was at the rescue the first time I had a special bond with one of the volunteers but she was unable to adopt me at that time, but now 2 1/2 years later and well when we saw each other the love and bond was still there!!!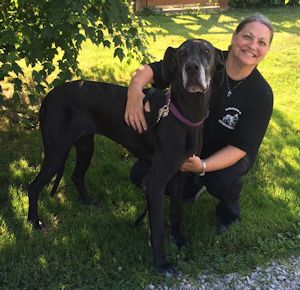 My Mommy!!!
Before Pictures & My Story Below
I lived my life chained inside a barn and when it was convenient my owner would bring me some food and water. Periodically I would be bred so I could have puppies that my owner would sell. Then one day the Warren County Humane Agent showed up and took me away from the living hell I had been in for the past 2 1/2 years. Although the humane society had everything I had dreamed of, a bed, food, water, and living inside, I was still terrified of this strange building and people. The people at the humane society called Harlequin Haven Great Dane Rescue to come for me and the next day I was here at the Rescue. I already have friends! Lucas and Ivan told me all about their lives and how great they are now. I have a really soft warm bed, tons of toys, and I am being fed 4 times per day and given treats. I especially love all the hugs and kisses I am receiving!
Update 5/17/16: I was adopted in February 2014 and today I came back to the rescue and I am once again homeless. It broke my heart watching my mom wave good-bye and drive off. I do not understand what I did wrong.............
Update 6/24: I am now ready to start looking for my new forever home. I am a needy girl and would prefer a mommy that stays home or works from home. I can be shy when we first meet but I quickly warm up. Please if you are looking for a beautiful middle-aged Dane consider me!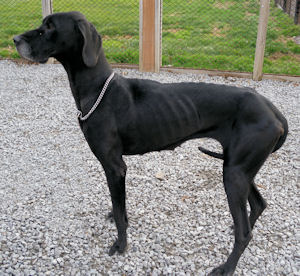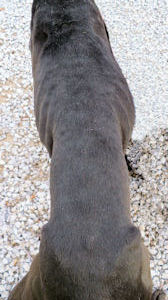 11/23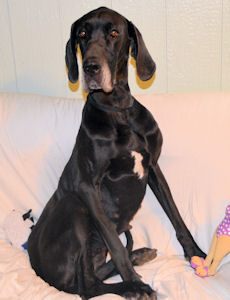 12/4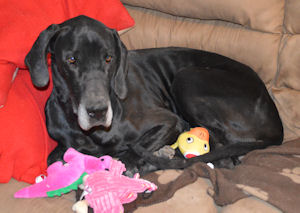 1/12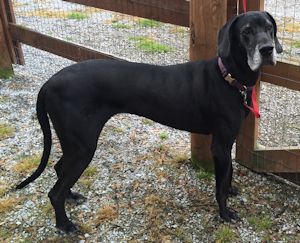 5/17

Date of Birth: 6/2011
Description: female, black, natural ears
All images and text on this site Copyright © 1998-2023 Harlequin Haven Great Dane Rescue, Inc. unless otherwise credited. Use of any image or text without written permission is expressly forbidden. All rights reserved.