Lakisha - ADOPTED
ADOPTED: I have found my forever home!! My new mom & dad love me and promise to keep me forever!! I love my new family!! I sure am one lucky lady!!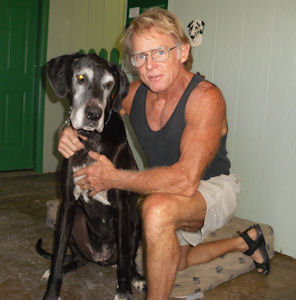 My new dad!!! My new mom stayed home with my new brother Tony!!!
Click here for more pictures
Before Pictures & My Story Below
My owners dumped me at the Franklin County Animal Shelter because they were going to have a baby!!! I thought for the last 10 years that I was their baby, that I was part of the family. I guess I found out different, didn't I? Lucky for me the shelter called Harlequin Haven to see if there was anyway they were able and willing to take me in and to all of our surprise they said YES!! The rescue had me transported the very next morning and even gave me a new name!! My new name means "Alive, she who lives" they thought it only fitting and so do I. I love my new name! Not only did the rescue give me a new name they gave me my very own bed and a couch to lay on and tons of toys to play with!
I am a very sweet and loving girl and deserve a wonderful forever home for my remaining years. So would you like to give me that wonderful forever home?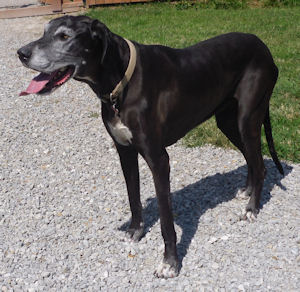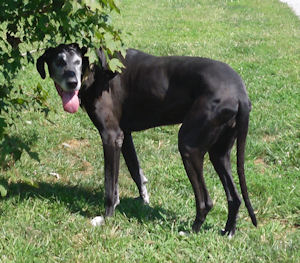 Date of Birth: 8/2001
Description: female, black with white marks, natural ears
All images and text on this site Copyright © 1998-2023 Harlequin Haven Great Dane Rescue, Inc. unless otherwise credited. Use of any image or text without written permission is expressly forbidden. All rights reserved.