Kristina - ADOPTED
ADOPTED: I have found my forever mom!!! Almost 2 years ago her last Dane died, and she swore she would never have another, than she saw my picture!! The rest is history!!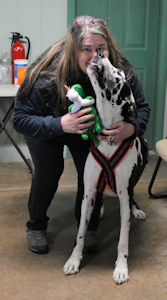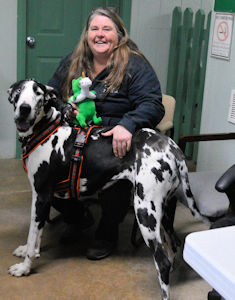 My new mommy, you can see the love!! I even got a new name!! Farah
Before Pictures & My Story Below
My brother Kristopher and I were being starved and neglected by our owner, even after I gave them a litter of puppies to sell!! Then one day the County Dog Warden showed up and took us to the shelter! I have never felt so lucky, many dogs are afraid at the shelter, but we weren't!! We were given food to eat and beds to lay on! Life was great!! When the shelter got legal custody of us, they immediately contacted Harlequin Haven and they even arranged transport, a few days later I arrived!! I am now being fed several small meals each day and I have a soft bed and plenty of toys plus treats!! Grandma said that she will make me a Vet appointment this week!! I need my cherry eye fixed and to be spayed so I do not have to have any more puppies!!! Grandma told me my only job is to gain about 20 pounds!! What a GREAT job to be given!!
Update 9/16: Sorry for the delay in updating everyone. I was spayed and had my eye repaired on Tuesday, it turned out I did not have cherry eye, instead I had what is called Scrolled Cartilage. Although sometimes it can be associated mine was not!! I am so happy that I will no longer be having puppies NOW I can live my life!! Well, I gotta go and get ready for dinner!! I love dinner!!
Update 9/26: Check out my new pictures below!! I am gaining weight and just need to finish firming up my body from being a mommy last spring!! I had a recheck from my vet today and he was surprised at how great I was looking in such a short time!! PLUS Grandma said I can start looking for my forever home!! I am so happy and bouncy that Grandma said I should probably recommend that my new home take me to obedience classes! Okay so where is my forever home??
Update 2/4: No matter what the weather is I am beautiful and happy!! Check out my snow pictures below!!! Hey all you people that wanted to adopt me when I first came into the rescue where are you now??? I am waiting for that fabulous forever home!!!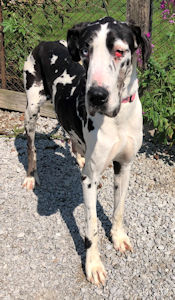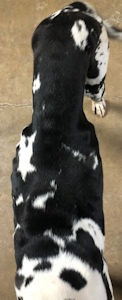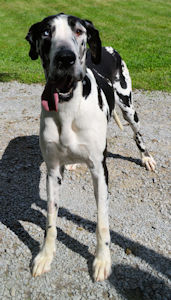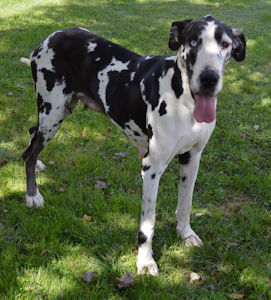 9/26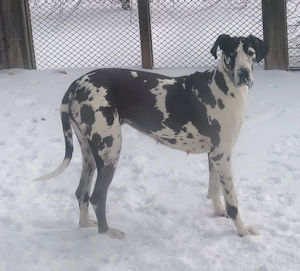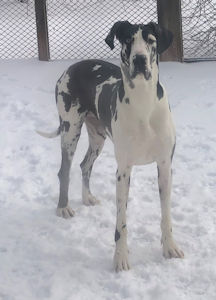 2/4
Date of Birth: 6/15/2019
Description: female, harlequin, natural ears
All images and text on this site Copyright © 1998-2022 Harlequin Haven Great Dane Rescue, Inc. unless otherwise credited. Use of any image or text without written permission is expressly forbidden. All rights reserved.