Kimberly - ADOPTED
Adopted: What a great day!! I found my forever mommy and sister today!! My sister Bernice was adopted from Harlequin Haven a little over 4 years ago and well my mommy is the bestest!!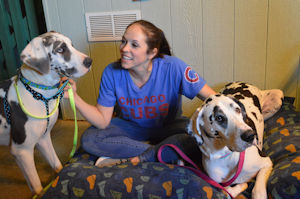 My beautiful mommy and sister!!
Click here for more pictures
Before Pictures & My Story Below
I was found roaming a country road in Fairfield County. When my owners were not able to be located a nice lady took me in and although she wanted to keep me she decided it was not what was best for me. At first when I arrived at Harlequin Haven I was scared but it did not take me anytime to make friends. My BFF is Jaden he is great!! Plus I have a soft bed and tons of toys including a stuffed Teddy Bear and I am fed many small meals throughout the day, life is great!
Harlequin Haven is not sure if my growth has been stunned nor whether I have some bone deformities. I weigh only 59 pounds and am about 15 pounds under weight. Grandma said hopefully with good food I will bounce back but at this time it is too early to tell.
Oops did I forget to say I LOVE having my picture taken!!
Update 1/28: I got on the scale again today and I now weigh 73 pounds!! I have gained 14 pounds in a week!!! Check out my new pictures below!!
Update 2/27: Wow has a lot happened in the last month! Jaden wanted to go play with the other Danes so Grandma let me move in with Tori!! So Tori and I were sharing a room and than last week when Louis came in he got to move into our room!! Tori and I are teaching him how to get in and out of the building etc.. Okay back to me!! I have gained my weight and look pretty great but it does appear that I am going to be a smaller Dane. Grandma said in the next week or so I will be able to start looking for my new home! I already told her I do not want a family that yells a lot, I don't like it when people yell, it scares me!! I want a LOT of hugs and kisses and even more being petted!! I want a very big fluffy bed and tons of stuffed toys just like I have here at the rescue!! I take really good care of my stuff so I deserve the best!! Well it is time for me to play with Louis so I gotta go!!
Update 3/3: I am now ready for adoption.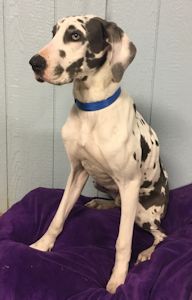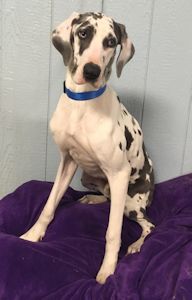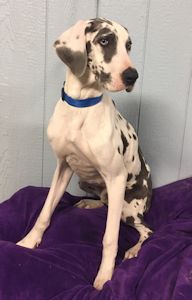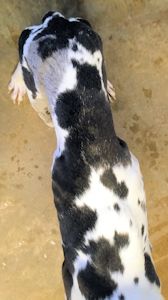 1/20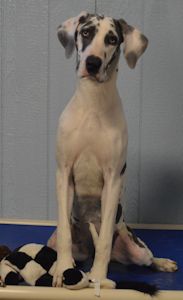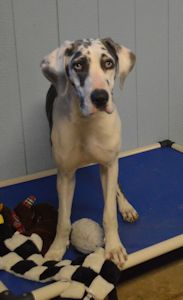 1/28
Date of Birth: 8/2017
Description: female, harlequin, blue eyes, natural ears
HHGDR Suggests: Obedience Class, crate
All images and text on this site Copyright © 1998-2023 Harlequin Haven Great Dane Rescue, Inc. unless otherwise credited. Use of any image or text without written permission is expressly forbidden. All rights reserved.