Keifer - ADOPTED
ADOPTED: I have found my forever home and life is GREAT!! I love my new mom and dad!!!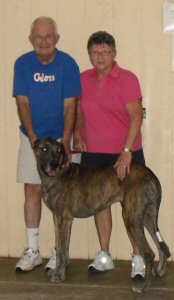 My mom and dad!
Click here for more pictures
Before Pictures and My Story Below
My owner called the rescue early Saturday morning to dump me and told the rescue that I was purchased off Craigs list days earlier but a quick search on Craigs list showed she was not being honest. Then when the Animal Friends Humane Society opened there doors on Saturday morning she dumped me and told them she had found me roaming the streets. Of course that lie was quickly noticed when the dog warden saw me and knew exactly where I had came from. Unfortunately my stay at the shelter resulted in me getting kennel cough. When will people learn not to lie????
Luckily the shelter and Harlequin Haven cared about me and not the lies told! I am safe at the rescue and loving every minute of it! I am an inside dog now with a nice bed and plenty of toys! I will be at the rescue for quite a while before I will be ready for adoption. I am being treated for kennel cough and blood test have shown that I am also heartworm positive. I must get over my kennel cough before I can be treated for the heartworm.
Update May 5: I finally got over my kennel cough and I received my first treatment for my heartworm, now to wait another month till I can receive the next treatment!
Update June 9: I received my 2nd heartworm treatment and felt pretty bad for a couple of days but now I am starting to feel good again. Hopefully soon I will be allowed to run an play again. Of course with this heat I am more content to just lay around in the AC and enjoy life!!
Update June 22: I have some GREAT news!! I received my heartworm test today and I am NOW heartworm negative!! I am now ready for adoption!!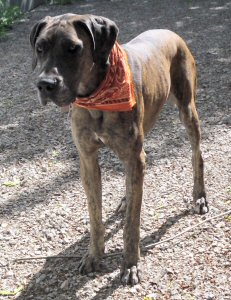 Date of Birth: 4/2008
Description: male, brindle, natural ears
All images and text on this site Copyright © 1998-2023 Harlequin Haven Great Dane Rescue, Inc. unless otherwise credited. Use of any image or text without written permission is expressly forbidden. All rights reserved.