Katie AKA Kaytee
When our owners no longer wanted my mom, sister and I they called the Adamís County Animal Shelter to come and take us away. Thankfully the Dog warden cared enough to call HHGDR. I remember a little of my first home, but not much, being very young and all.
People came to see me at the Rescue and play with me, but they all went away. Then, one family came back and took me to my new home. I was afraid, but they seemed OK. My new Mom and Dad take good care of me. My boy, Allen, rides in a chair all day. He's lots of fun, gives me dog-cookies. They got me a real nice bedroom with blankets and a bed. Sometimes I have to share my bed with my cat. I tried to get her to play with me, but Mom said she is getting old and would rather just sleep. That's all right, and really, she doesn't take up much room. I have my own backyard with squirrels and a rabbit to chase around. I don't try to catch them, just give them some exercise. Before I go outside in the morning, I make everyone pet me and hug me. It's good for them, and I like it too. Almost every day I go for a walk around the neighborhood with Dad and Allen. I've made lots of dog-friends and people-friends too. People always want to know what kind of a dog I am. Dad says something like "She's a Great Labrador Dane Retriever." They tell me I'm pretty and what a good dog I am. Of course, that's just the way I am.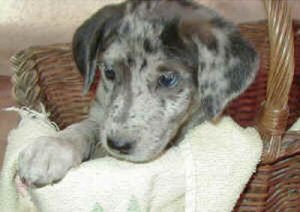 This was my picture when I was for adoption.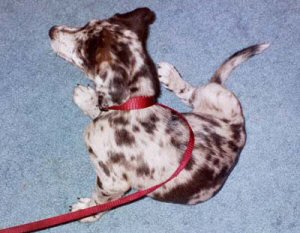 My first collar boy does it itch!!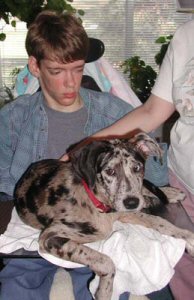 This is my brother Allen!!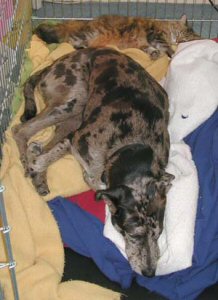 This is my own cat, I like sharing my bed with him!!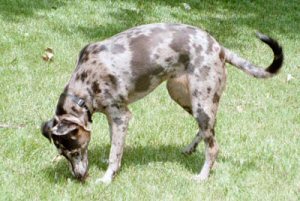 I have really grown up!!
All images and text on this site Copyright © 1998-2023 Harlequin Haven Great Dane Rescue, Inc. unless otherwise credited. Use of any image or text without written permission is expressly forbidden. All rights reserved.