Josh
I was taken to the Clermont County Humane Society along with my little sister, and, well our story was told so many ways that I myself am not sure what the truth was. No matter what the Rescue and many others tried to do, the shelter refused to release us to them they instead turned us back over to our owner on May 25th. June 1st, only 7 days later, my owner returned me to the shelter and relinquished me. She said they could not afford medical care for me. The next day the shelter called HHGDR to come for me. I had not eaten in over 5 days, I was very sick and weak. I was battling pneumonia and I was emaciated--I had no resources to draw on. I could barely stand and walk without help. My Grandma at the Rescue thought I was going to die. But with lots of TLC and tons of medicines I survived!! I then waited for the right forever home to come for me. Several people wanted me but they were not the home I wanted. Finally my dad showed up and I even got a little sister in the deal!!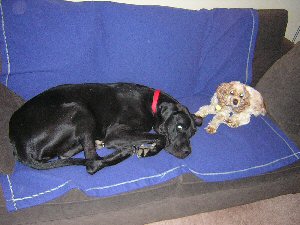 I love my little sister!!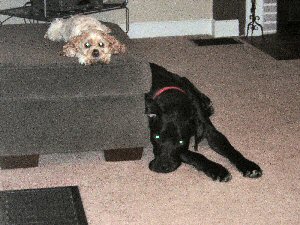 See I even gave her the soft place to lay!!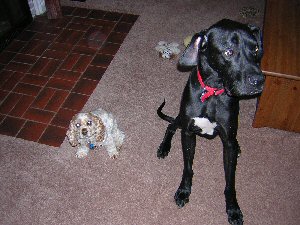 Enough of the camera dad!!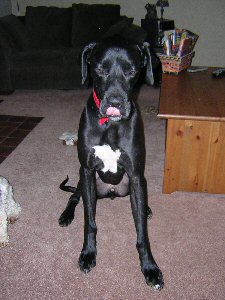 Dinner sure smells good!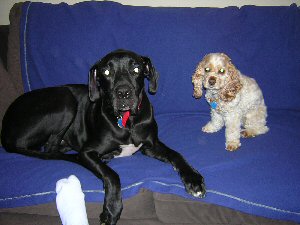 Don't we look innocent??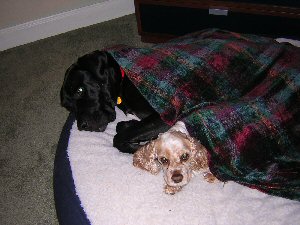 Dad!! We are trying to get our beauty sleep!

Now dad got me a brother for Christmas!!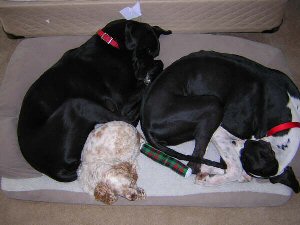 I think we need a bigger bed!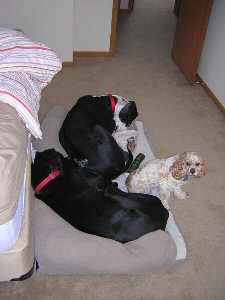 Yep he woke you up again didn't he!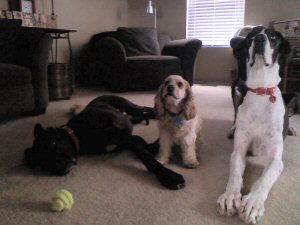 I am too tired to play!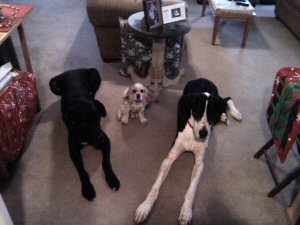 Is it dinner time yet?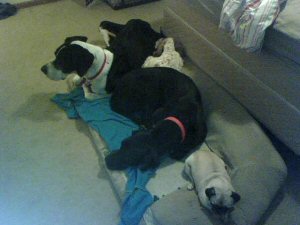 We really need a bigger bed!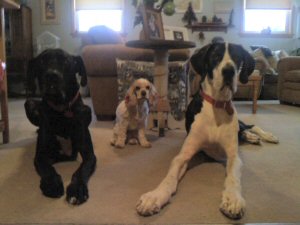 On the count of 3 jump!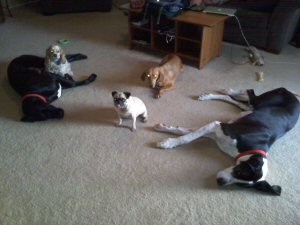 I am too tired!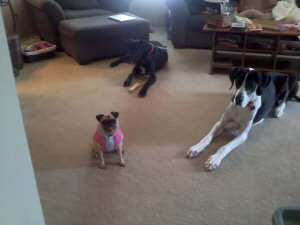 Yep she looks funny!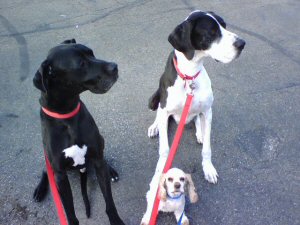 We are waiting!!
All images and text on this site Copyright © 1998-2023 Harlequin Haven Great Dane Rescue, Inc. unless otherwise credited. Use of any image or text without written permission is expressly forbidden. All rights reserved.