Jaden - ADOPTED
ADOPTED: My day has arrived!! I found the forever family that I wanted!! Yeah I have been looked at several times but those families were not for me!! I have a wonderful mommy, daddy and a 4 legged sister!!
My new family!! Family is wonderful!!
Before Pictures & My Story Below
I was purchased as a puppy to be a breeding dog to supplement my owners income. The day he purchased me I was taken home and chained out in the backyard and pretty much forgotten. After a year he apparently got tired of the neighbors complaining so he took me to a local shelter. I only weighed 60 pounds and if that was not bad enough I have Lyme disease. But unlike so many other dogs my story does have a happy ending!! Ya see the shelter contacted Harlequin Haven who agreed to take me and the shelter even arranged my transport. I was here the very next day!! I am now inside with a really soft bed and tons of toys, plenty of quality food and of course many other Danes to play with!! Plus the other dogs told me that some old fat man that wears a red suit will come here in a week or so and will give us all new toys to play with!!! How Great is that!!
Update 1/9: Great News!! I have finished my Lyme disease treatment, been neutered and I now weigh 110 pounds!! The bestest news is I am NOW Ready for Adoption!!! Check out my new picture below!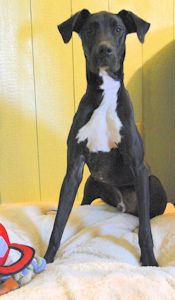 12/17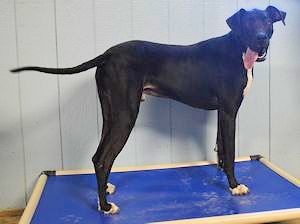 1/28
Date of Birth: 11/2016
Description: male, black with white marks, natural ears
All images and text on this site Copyright © 1998-2023 Harlequin Haven Great Dane Rescue, Inc. unless otherwise credited. Use of any image or text without written permission is expressly forbidden. All rights reserved.