Isaac - ADOPTED
My forever home has finally arrived!!! Best day of my life!!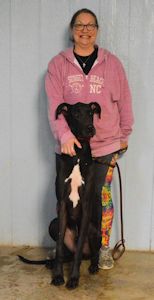 My new mommy!!! We make the perfect family!!
Before Pictures & My Story Below
My mommy was a Puppy Mill Dog in Broken Bow, Oklahoma. For those of you that don't know what a Puppy Mill is or what the dogs' lives are like in a Puppy Mill, please click this link
>
Puppy Mill
My Breeder is registered with the USDA. Yep, these are the same people that inspect the meat on your dinner table! I guess in the eyes of most there is no difference between a dog and a cow! My breeder not only bred Great Danes, but Bloodhounds, Miniature Australian Shepherds, Yorkies, etc. Anyway, when my siblings and I were old enough we were listed with a distributor, Pinnacle Pet, in Missouri. I do not remember if we actually went there or not, but I do remember a really long ride in a big truck. We stopped in several places and I finally ended up at Petland Hilliard on Nike Station Way. When I arrived on May 19th I was checked out by their veterinarian and on May 26, just one week later, I was purchased!! Petland says I was "adopted" for a measly $2549.99 plus tax!! I was NOT adopted, I was purchased!! Why do Breeders and Pet Stores lie and say the dogs and cats are for adoption? Click here to see my
>
Adoption Certificate. We were NOT for adoption, we were FOR SALE!! We were sold just like the meat in the grocery store! Everyone, from my breeder, to the distributor, to Petland made money off of me!!! Petland did nothing to educate my owners about the needs, habits, and cost of a large breed dog. If they had, I may not have ended up homeless (but luckily in a rescue) before I was a year old!! My human owners had purchased me on a whim. They had just found out that they were expecting another child, and with the 3 yr. old son at home, what better time to get a puppy to grow up with the children!! She is now 8 months pregnant and without a fenced yard it just got to be too much. They decided I had to go!! SO, 2 days after Christmas, I found myself homeless!! When I arrived at Harlequin Haven I put on a brave act. But the other dogs could tell I was scared and depressed and they all welcomed me with open arms! They were all telling me about this fat man that showed up the other night wearing a red suit and gave them all brand new toys. To top that, some cute little girls and their mommy baked and brought them all muffins. The other dogs even asked Grandma at the rescue if they could share their new toys with me, but Grandma told them not to worry, that Santa knew I was coming and left new toys just for me. And yes, I even got a muffin!



Click here to see my
>
AKC Papers
Click here to see my
>
Pet Profile
Update September 2017: I was adopted 1 1/2 years ago and it just did not work out!! I am now off all the drugs that a behaviorist had put me on and have been treated for my UTI and my ear infection and am feeling GREAT!!! Check out my new pictures below!! Grandma says I am not ready for adoption yet but hopefully soon!!!

Update 9/24:
I am now ready for adoption!! I am a very happy boy and just love to bounce and give kisses. I hope to find a forever home that will really be a forever home this time!!!


Update 12/21:
Check out my new picture below!! My Secret Santa got me a new bed, tons of toys, treats, a blanket and even a brand new collar!! I can't wait till the other Santa comes and gives me more toys!!!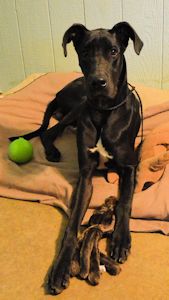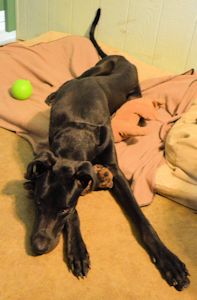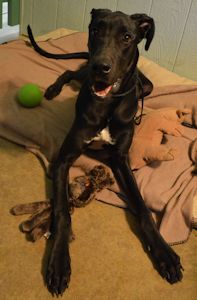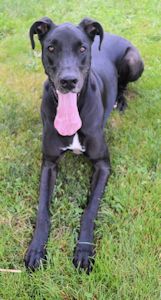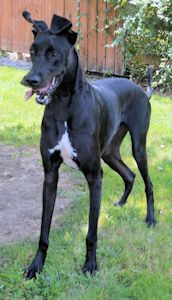 9/2/17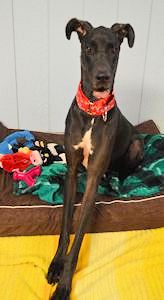 12/21
Date of Birth: 3/13/2015 Breeder: Summer Bray USDA # 73A2416
Description: male, black with white marks, natural ears
All images and text on this site Copyright © 1998-2023 Harlequin Haven Great Dane Rescue, Inc. unless otherwise credited. Use of any image or text without written permission is expressly forbidden. All rights reserved.