Hunter
I was purchased from a Backyard Breeder and lived outside never stepping foot inside my owners home. My sister Hillary however lived in their home at least until our mom moved away then she too was kept outside all the time. Apparently mom could not stand the thought of Hillary living outside so she contacted the rescue and that same day we were brought to Harlequin Haven. Mom continued to show her favoritism by making me ride to the rescue in the back of a pickup truck and Hillary rode in the car!! As soon as we arrived at the rescue my new Grandma got me out of the truck and put some medicine on me to kill all the fleas and ticks that I was covered in. It took time but I gained the weight I needed and became a very healthy young man!
I found my forever home and I know they will never treat me like I did not matter. They love me and my sister Bella who also was adopted from the rescue. We both are lucky to have such a wonderful mom and dad!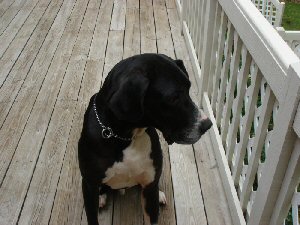 Such a great view of the yard!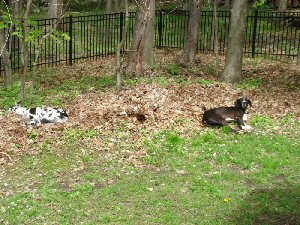 We love laying in the leaves!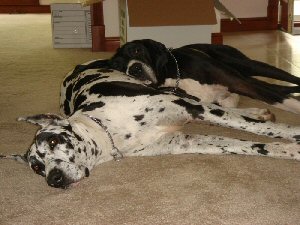 Bella makes a great pillow!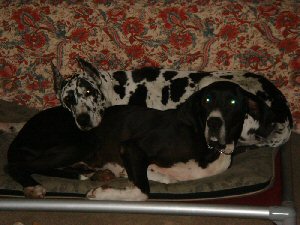 We love to snuggle together!!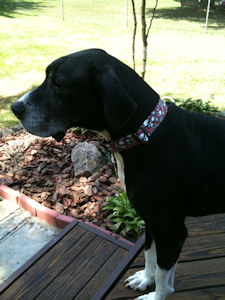 My pretty new collar!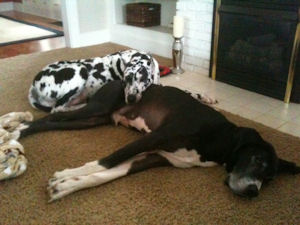 Why am I always the pillow??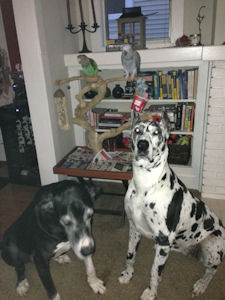 Sis promise me you won't let the birds get me!!!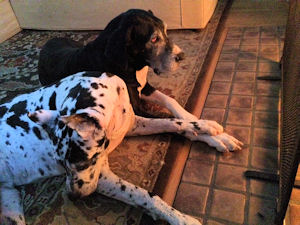 I love my sissy!!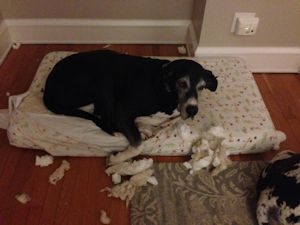 Don't worry mom I am no longer bored!!
All images and text on this site Copyright © 1998-2023 Harlequin Haven Great Dane Rescue, Inc. unless otherwise credited. Use of any image or text without written permission is expressly forbidden. All rights reserved.