Hillary - ADOPTED
ADOPTED: I have found my forever home and I know that this time it really is my forever home!! Both my brothers were adopted from Harlequin Haven and they told me mom never sends a dog back because we are not dogs to her we are family!!! I have 2 wonderful 2 - legged sisters and a dad too!!! Life is wonderful!!!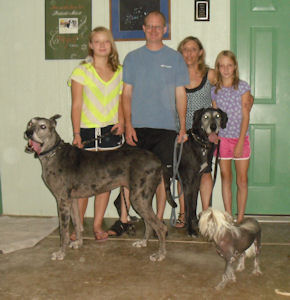 My forever family!! Okay you got my picture, I am out of here!!
Click here for more pictures
Before Pictures & My Story Below
I was purchased from a Backyard Breeder when mom and dad divorced I was thrown outside to live. Apparently mom could not stand the thought of me living outside so she contacted the rescue, that same day we were brought to Harlequin Haven.
I was adopted from the rescue in August 2008 and well you guessed it I am once again homeless. I am hoping that this time I will find a forever home. I am a very sweet and loving girl and would love that forever home that we all dream of!
Update June 17: I asked Grandma to take my picture today when she was taking some of the others so that maybe someone would at least consider adopting me. I am not a bad dog actually I am a very good dog just looking for a forever family that will love me as much as I promise to love them!! Grandma says I am the perfect Dane and that some family would be lucky to have me. I love children, cats and yes other dogs and get along great with all!! Would you consider giving me a forever home??? When you say I am too old just remember that Danes like wine get better with age!!!!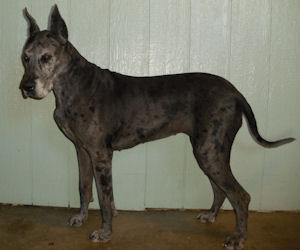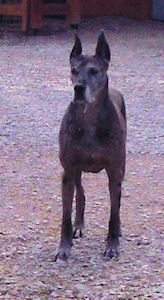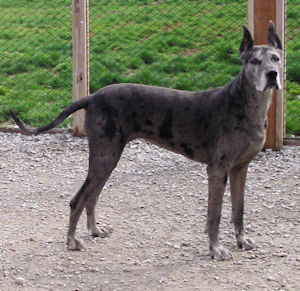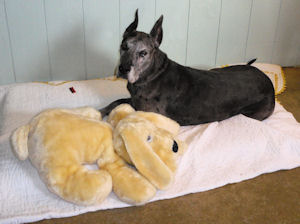 6/17
Date of Birth: 10/18/2005 Breeder: Cathy Frost - Mystic Valley Kennel
Description: female, merle, cropped ears
All images and text on this site Copyright © 1998-2023 Harlequin Haven Great Dane Rescue, Inc. unless otherwise credited. Use of any image or text without written permission is expressly forbidden. All rights reserved.