Hector AKA Louie
When my owners no longer wanted me they dumped me in the night drop box at the Jackson County Animal Shelter. I guess they were ashamed of how they had cared for me or should I say the lack of care they had given me!! The wonderful Dog Warden immediately contacted Harlequin Haven and the next day they were there to get me!! The great volunteers were so gentle and loving with me and the nice woman even hugged & kissed me and allowed me to snuggle with her during my transport. I was immediately taken to their vets office and I have a very serious case of Demodectic Mange but all are convinced I can be cured. The doctors said I should be well in 4 to 6 weeks, I can't wait!! If having a horrible case of Mange was not bad enough I then came down with Parvo. I did not think for a while I would live but thanks to a lot of home cooked meals I got well!
I have my forever family now and life is wonderful!!!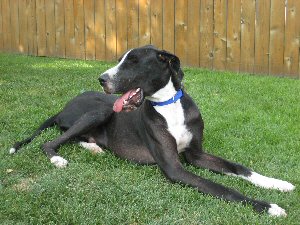 I love my new yard!!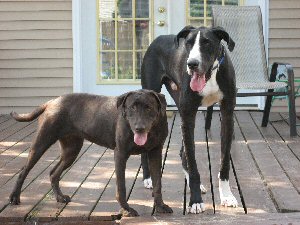 This is my sister!!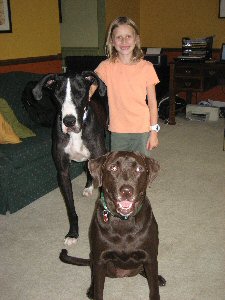 My human sister and my 4 legged sister!
All images and text on this site Copyright © 1998-2023 Harlequin Haven Great Dane Rescue, Inc. unless otherwise credited. Use of any image or text without written permission is expressly forbidden. All rights reserved.