Harper - ADOPTED
ADOPTED: What a beautiful fall day, I found my forever mommy and daddy!! They are the bestest in the whole wide world!!!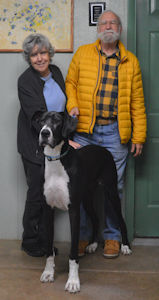 World meet my new family!!!
Before Pictures & My Story Below
My family dumped me because they had young children and they decided I was too big! I was then given to a young couple, and they decided they would fatten me up and send me to a rescue, but they bit off more than they could manage. I am at least 20 pounds underweight and have a severely infected tail, plus my ears are dirty and infected as well. Another rescue had promised the young couple that they would take me, but they changed their minds. Lucky for me Harlequin Haven agreed to take me in, and the young couple delivered me the next day!! Shortly after I arrived here, they cut the bandage off my tail and the smell of the infected rotting flesh made everyone sick!! Then they gave me an hour-long bath!!! It took them that long to get the dirt off me!! It felt soooooooooo good!!! Then they gave me a quick nail trim and I got my ears cleaned. While cleaning out my ears Grandma found a deer tick you can see it in the picture below as well as the dirty cotton balls from my ears. Then off to rest!!
I will be going to the vet this week to get my tail amputated (almost 1/2 of bone is sticking out at the end) and I will be spayed. I cannot wait!!! Right now, I am getting antibiotics and pain pills, my tail hurts really bad!! The rescue gave me a soft dog bed and tons of stuff the other dogs said were toys and I am supposed to play with them but to be honest I do not feel much like playing!!
Update 5/22: I just wanted to give you a quick update. My Vet appointment is scheduled for this Friday, the Veterinarian wanted to wait a few days to get the infection under control. I must admit I am already feeling better! I love my new dog bed, I love being fed 4 times a day, I love being inside and not having to fight the flies and I love the medicine making my tail feel better!! Okay back to bed and another nap!
Update 5/27: I had my surgeries yesterday and I am feeling great!!! Yes, I have a bit of pain from the surgeries but nothing like the pain I had been living with my tail rotting off!! PLUS, I have already gained 15.6 pounds!!! Is it not amazing what can happen when you give a dog a bit of food!!!
Update 6/11: Well my day has finally come, I am NOW ready for adoption!!! Check out my new pictures below!! FYI, I love laying on the couch!!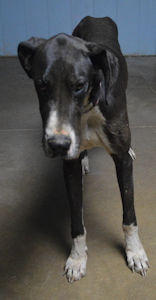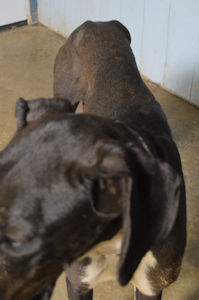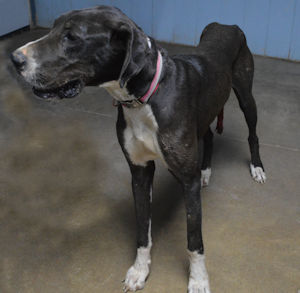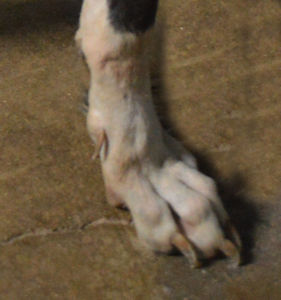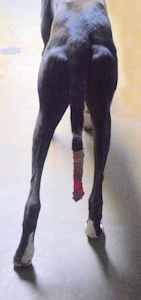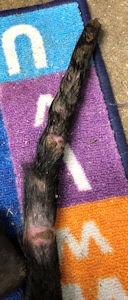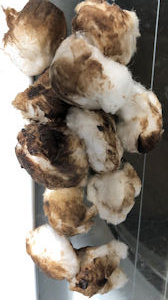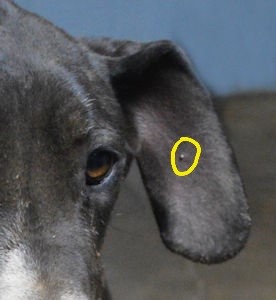 5/20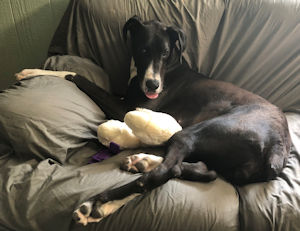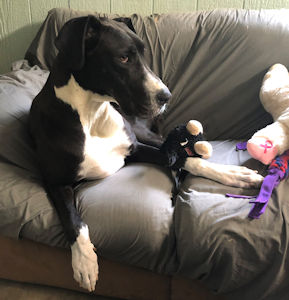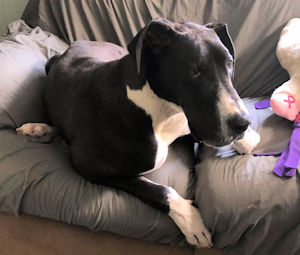 6/10
Date of Birth: 5/2020
Description: female, mismarked mantle, natural ears, tail docked.
All images and text on this site Copyright © 1998-2023 Harlequin Haven Great Dane Rescue, Inc. unless otherwise credited. Use of any image or text without written permission is expressly forbidden. All rights reserved.