Harley
Harley came to Harlequin Haven Great Dane Rescue as a 12 week old puppy. He was found wandering the busy streets of Xenia and was taken to the Green County Animal Shelter. Since Harley is deaf, it is a miracle that he had not been hit by a car. When no one claimed him, the shelter called Harlequin Haven Great Dane Rescue to pick him up. Harley was soon adopted and settled into his new home. However, after four years, his owner was having financial problems and decided to move into an apartment closer to her work. So Harley came back to HHGDR. Harley was again adopted, this time for keeps. He now lives contentedly with his new Mom and two sisters and a brother. Thor and Sadie are also Danes from HHGDR, and Samantha is a retired Racing Greyhound.
Update from Harley: October, 2004. I am now 10 1/2 years old. I got along real well after my ACL surgery, but now my age is catching up with me, and I don't get around too well because of my arthritis. Mom is real patient with me, and comes to help me up when I yell for her.

Sadie and Thor have passed on and are waiting at the Rainbow Bridge, but Samantha is still with me. I have another sister, Jasmine, from the Rescue, and also I have a little brother, Billy Bob. Jasmine is an older Dane and she understands me, but Billy Bob (a Toy Fox Terrier) is only 4 years old and can be a real pest sometimes. On the whole, though, we all get along just fine. Mom makes sure of that!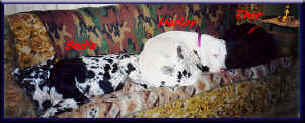 Unfortunately Harley developed ACL to read his story on this as well as more about ACL please click on the links.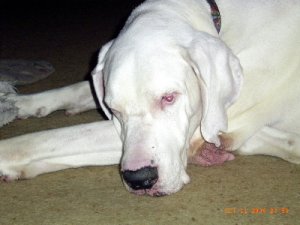 Mom I am trying to rest!!
All images and text on this site Copyright © 1998-2023 Harlequin Haven Great Dane Rescue, Inc. unless otherwise credited. Use of any image or text without written permission is expressly forbidden. All rights reserved.