Ghianti - ADOPTED
ADOPTED: I have found my forever home and I am lucky because Quaid was my bestest friend and our new parents adopted us both!! They loved us both so much they could not decide!! We also have a new brother his name is Hector and he is the greatest!! Life is wonderful!!!!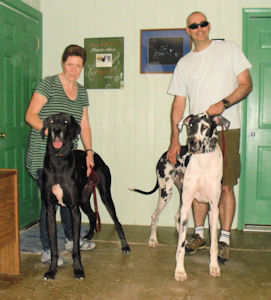 My forever family!! You can feel the love in the air!!
Click here for more pictures
Before Pictures & My Story Below
I have had a long hard life in a short amount of time. I was left in a basement to starve to death! My owner, her brother and his girlfriend were all tried and convicted of animal cruelty. I think the below pictures tell the story.
I want to thank the Butler County Dog Warden and the Animal Friends Humane Society for saving my life and getting justice for me. It took 3 months but it was worth it!! Click here to view the > court records.
As soon as the judge gave the Animal Friends Humane Society ownership of me I was immediately released to Harlequin Haven. As you will see from the second set of pictures I still have a ways to go before being ready for a new home. My tail is injured and will have to be amputated, I still have skin issues plus I need to gain more weight. Upon arrival to the rescue I weighted 104 pounds. Although I have been abused and neglected I still love humans.
Update June 7: I went to the vet yesterday and had a skin scrapping which was negative, then blood drawn and had my tail amputated. I now weigh 107.8 pounds so I still have a long way to go but it sure is fun gaining weight!!
Update June 12: Just a quick update, I now weigh 109.8!! I am slow at gaining but it sure is fun!! Well it is play time so I am going to go play!!
Update June 19: Great News I now weigh 113.4!!!
Update July 1: Oops I forgot to let you all know that I gained another pound last week!! I weighed in at 114.4. Only another couple days and I get weighed in again!!!
Update July 4: Great News!! I am continuing to gain weight!! I now weigh 116.6! I will have to get Grandma to take some new pics of me soon to show off how great I look!
Update July 17: I am still gaining weight. I now weigh 118.4 pounds!
Update July 24: I have not been on the scale yet this week. Grandma has been busy with the new mom and pups but I promise to jump on the scale later this week!
Update July 27: Oops I got on the scale yesterday I now weigh 120.2 pounds!!! NOW to get grandma to take some new pics of me!
Update July 31: I was weighted again this AM and I now weigh 122.4 pounds!! I also talked Grandma into taking a new picture of me!!! Aren't I cute!! Check out my new picture below!!!
Update August 7: I am NOW ready for adoption!! I weigh 125 pounds. Although I can still stand to gain a few more pounds Grandma said I could start looking for that forever home!!! I however am afraid of some men and need time to get to know them before I really like them. Once I know them I am good with them I just need to know they are not going to hurt me!
Update November 5: Just figured I would give you a quick update!! So far needless to say no one has adopted me or even shown any interest in me but HEY that is okay because I have my family and friends here at the rescue and I am loved so I am content!! My hair is still thin on my back and Grandma told me it probably always will be due to the neglect I suffered. But I am handsome and happy so that is what matters!! Grandma took some new pictures of me yesterday and I have placed them below!!
Update December 27: I just wanted to give you a quick update and tell you all about my new toys I got for Christmas!! I am doing great and especially after Santa came and gave me all my new toys!! I got a new Wubba, cuz chicken, nylabone, fleece rope toy and a stuffed whale!! I never had so many new toys and Santa gave these all just to me!!! I love my new toys so very much!!! Also I wanted to let you know that I have learned that men are not all bad it was just the jerks that I lived with before that were bad!! Thanks to Santa I know men are good!! Okay I have to go play with my new toys!!!
Update March 18: It is hard to believe that a little over a year ago I was locked in a basement starving to death and NOW I am a happy healthy boy! Now to find my forever home!!
Update March 24: I am still waiting!! Come on forever home where are you?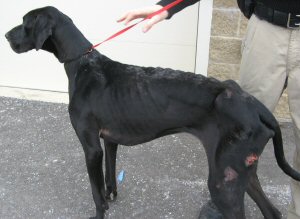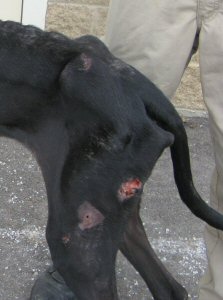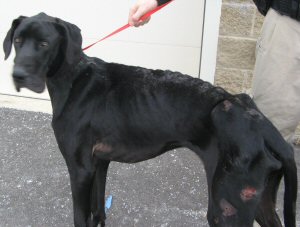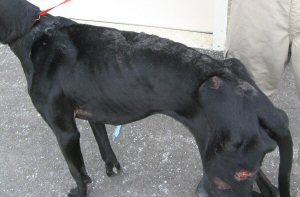 2/11
Pictures above compliments of the Animal Friends Humane Society.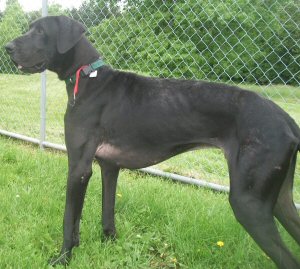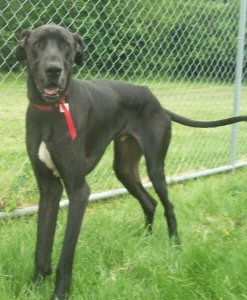 5/27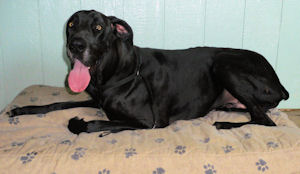 7/31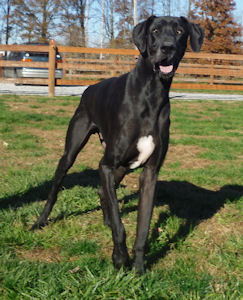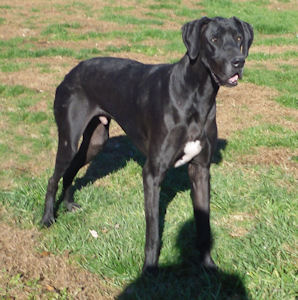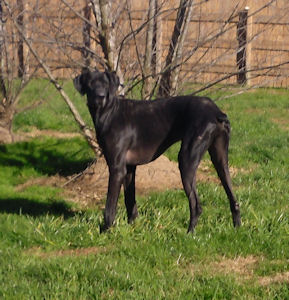 11/5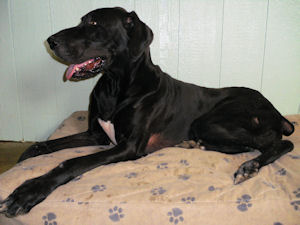 3/18
Date of Birth: 2/2009
Description: male, black, natural ears, tail docked
All images and text on this site Copyright © 1998-2023 Harlequin Haven Great Dane Rescue, Inc. unless otherwise credited. Use of any image or text without written permission is expressly forbidden. All rights reserved.