Elvis
I was sold by my breeder (Sheri Butcher) to a pet store called The Dog House in Tri-County Mall for resale. This pet store is owned and operated by a company called Danes R Us, Inc. but the phone number was listed as Petland. On March 21, 2003 my brother and I were purchased by a wonderful young woman for $400.00 each we were not even 8 weeks old at that time. She thought she was ready to be a puppy parent, and maybe she would have been if we had been healthy puppies. Unfortunately we were sick like the other puppies at the pet store. We had bordetella, commonly known as kennel cough which if not properly treated can turn into pneumonia which ours did. In the 26 days we were with our new mom we visited the vet twice, the first time we were hospitalized. Our poor mom spent over $600 in vet bills in less then a month to keep us alive unfortunately we were still very ill. Our new mom could not handle us both being so ill and the ever increasing vet bills so she decided it was in our best interest if she turned us over to HHGDR.
Needless to say we were given all the medical care needed for us to become well and then to be placed up for adoption. I quickly found my forever home. My dad really loves me and knows how special I really am!! I even have a 4 legged brother.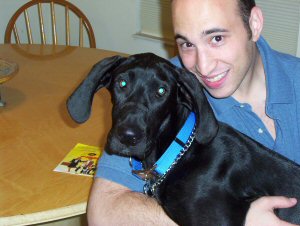 This is me and my dad!!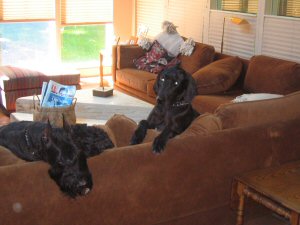 Here I am with my brother Remmie!!

This is me with my best friend Simon!!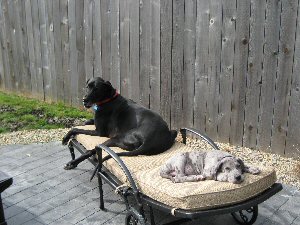 I am grown up now and now have a little brother his name is Crosby!

All images and text on this site Copyright © 1998-2023 Harlequin Haven Great Dane Rescue, Inc. unless otherwise credited. Use of any image or text without written permission is expressly forbidden. All rights reserved.