Cricket
August 20, 1997 - December 9, 2004
Hi, my name is Cricket. I was born August 20, 1997and I am a product of DanLea Farms in Clayton, IN. I'm a tiny, female Great Dane with Merle coloring. My ears are cropped, but they don't stand up. My two sisters and I were sold to a pair of breeders when we were four months old. We had been sick with Coccidiosis. (Veterinarians describe coccidiosis as a protozoan disease which may occur in connection with filth, overcrowding, poor sanitation, and housing of dogs and puppies in cold, damp quarters.)
Our breeder treated us for our illness then sold us (buy two and get one free). We were then put in dog runs with adult dogs. There was only one bowl of food. Guess who didn't get any food.
After putting us through the stress of having our ears cropped and not growing properly, they put an ad in the paper offering us for sale at $150 each. A couple came to see us and offered them $50 for me. They agreed. Three days later my new owner's turned me into GDR. They wanted a bigger Dane.
I am really cute and sweet, but I need a special home since I'm so tiny. At 7.5 months I weight 17.3 pounds and am only 17.5 inches tall. At 7-8 months a normal Great Dane puppy weighs 60-80 lbs, and stands 25-29 inches tall) Let's face it, how many Great Danes are lap dogs in the full sense of the word.
I'm safe now, but I worry about by two sisters. Please say a prayer for them since the look just like me and they haven't been as lucky.
HHGDR sent pictures and vet records to the AKC on the 2 pups we received from this litter. Both were extremely small. The AKC did investigate the breeder Lea O'Sullivan of DanLea Farms and determined that the litter was NOT purebred Great Dane. The AKC did pull the AKC papers from all pups born in this litter. DanLea Farms sold this litter as purebred even though the litter was definitely a mix bred litter!!!!
This breeder is now advertising that she has "Rare" colored Great Danes PLEASE DO NOT fall for that sales tactic, there is NO such thing as a "Rare" color only improperly bred Danes or again a sales tactic to get you to pay more for a backyard or puppy mill bred dog!!!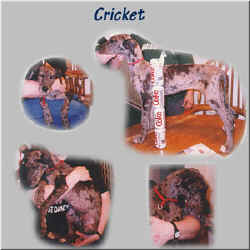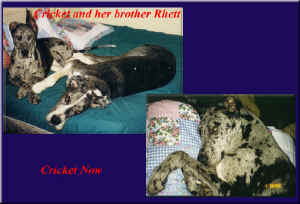 All images and text on this site Copyright © 1998-2023 Harlequin Haven Great Dane Rescue, Inc. unless otherwise credited. Use of any image or text without written permission is expressly forbidden. All rights reserved.