Colten - ADOPTED
ADOPTED: When Grandma adopted me from the local animal shelter I figured the rescue was going to be my home forever and boy was I wrong!!! I NOW have my forever and ever mommy and daddy!!!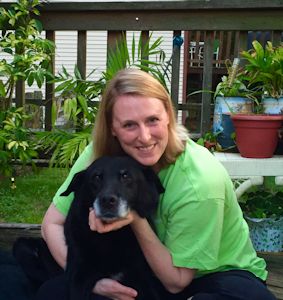 My wonderful new mommy!!!
Before Pictures & My Story Below
I was found roaming a country road in Brown County and taken to the county animal shelter. The shelter employees felt sorry for me because I was so scared and so when my owners never showed up for me they posted out on their Facebook page that I needed a rescue. Well who would have thought that a Great Dane Rescue would take me??? Well it was my lucky day because I am now an inside dog with air conditioning and everything!!! Grandma keeps giving me soft stuff to lay on and tons of toys but I am not sure about that stuff just yet!!! The second best part is I have yummy food and treats!! I love my food and treats!!!
I am a very affectionate boy and I LOVE to give kisses and more kisses!! I just want to please humans!!
I had a lump removed off my side when I was neutered and when the results come back I will be available for adoption.
Update: I am now ready for adoption!! Are you looking for a sweet loving, huggable, kissing dog? If so I am your boy!!!