Cleo
Cleo was bought as a puppy and not too long after she was brought to HHGDR because the landlord found out about her and the people weren't allowed to have a dog.
Cleo was adopted and lives with her new mother, Barb, in Dayton, Ohio. Cleo graduated from her Therapy Training Course on Friday, 26 March 1999. :) Here is her graduation Picture!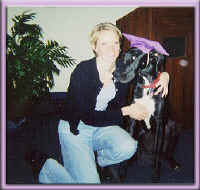 The following email was received by HHGDR on 24 September 1998 regarding Cleo's breeder:
---
I see that you have a Dane listed from a breeder named Christi J. Bosley.
It is such a shame that she wouldn't take Cleo back. It seems that she has another litter of pups that are ready to be sold as we speak. I am considering getting a Dane, and saw her ad in the paper. I called and went to see these pups and was so upset. They were very skinny, every rib could be seen. They were afraid of me and wouldn't go to anyone.
The mother was eating their food and being very aggressive towards them when they tried to share. The mother also looked very bad even for nursing a litter of ten. Her hip bones and ribs were sticking out so badly she looked like she would break. I was curious to see what all Ms. Bosley had done for the pups and she explained that they had been wormed once and that was all. According to her, the vet she goes to doesn't vaccinate until 12 weeks of age. I asked about any health testing she had done on the parents and she told me none, but the vet checked the puppies hips by rotating them. Does she really believe all the crap she is dishing out?
I then asked about the Sire to the litter she told me that he was hers as well. The father was a 6 year old Boston that she bred to her 5 year old fawn. She seemed bothered that I questioned that breeding. The Sire was also staked outside in the yard and even though she said she only kept him out there when he had to go out, it was easy to see he had a very well worn path and had spent too many hours there. She then went on to tell me about a pup that her sister was keeping. Apparently it had a deformed foot that the vet told her to tape and it would be fine. I'd like to know who her vet is. She went on to tell me that she was lowering her prices to sell them more quickly than the last liter. They had started to cost her too much......She now only wanted $250 down from the $350 the first litter went for.
Ms. Bosley didn't seem backwards about telling me anything about her puppies. I hope she doesn't actually believe that she has their best interest at heart. I am sure glad I was informed enough to check for her name on your adoption list. And I hope more of her pups don't end up in rescues, but the odds aren't in their favor unfortunately.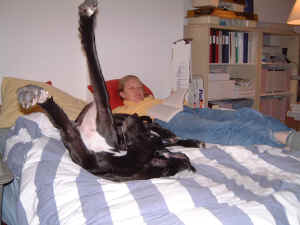 Mom and me resting!!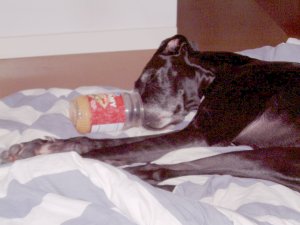 Okay I have been caught!!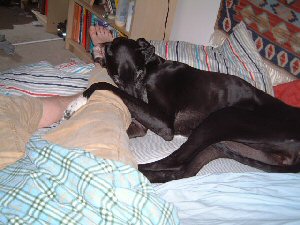 My favorite spot in the whole house!!
All images and text on this site Copyright © 1998-2021 Harlequin Haven Great Dane Rescue, Inc. unless otherwise credited. Use of any image or text without written permission is expressly forbidden. All rights reserved.