Clayton - ADOPTED
ADOPTED: Life just keeps getting better!!! I thought life could not get any better but as the old saying goes "good things come to those that wait". Well I have been waiting all my life for a wonderful loving home and today I found it!!!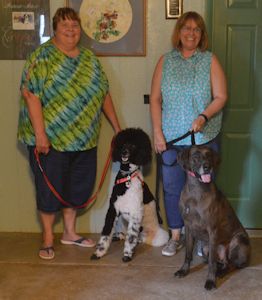 My mom, aunt and little brother Jordan, I also have 2 little sisters at home.
I also got a new name!! My name is now Clayton Bonner Smith!!!
My life is complete!!

Before Pictures & My Story Below
I was purchased from a backyard breeder when I was a tiny puppy and I had the same home my whole life. When my dad would get mad at mom or my 2 legged sister he would beat me because he said if he beat them he would go to jail. Over the years I have had many beatings and yes even broken bones but it was all I knew. One day my dad ended up in jail and mom was in rehab and I was left with an uncle while my 2 legged sister went to a foster home. Then the uncle decided he was not hanging around so he dumped some dog food on the floor and gave me a little water and he left town. Lucky for me a few weeks later my 2 legged sister was brought to the house to get some more of her clothes and they found me there thirsty and starving!! The social worker called the Adams County Humane Society to come for me. They saved my life!!
I am a small boy (90 pounds) but my heart is as big as any other Danes!! I surprise everyone when they find out about my previous life and yet I am so very sweet and loving. The humane society contacted Harlequin Haven to find me the wonder forever home I so deserve.
Update: Great News I am now ready for adoption!! I love to bounce and play like a puppy!! I found these really neat toys that squeak and I LOVE them!!! I have killed a few but Grandma says that is okay as long as it makes me happy!! Also my one hip joint was fractured at one time and needless to say I did not receive proper medical care so it did not heal properly. At this time it is not causing me any problems but I was told I had to tell you so there I did!! Are you looking for a handsome little Dane with a big heart and tons of love to share? If so maybe I am just what you are looking for!! I even come with a set of x-rays for your viewing pleasure!!!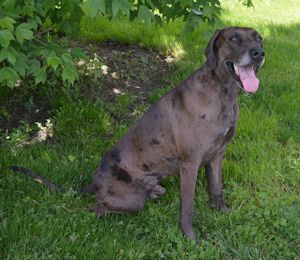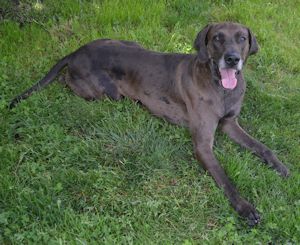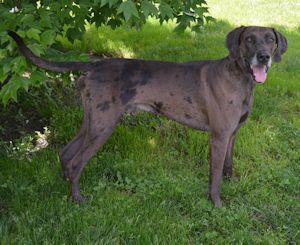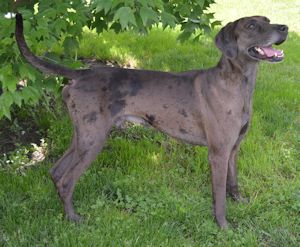 Date of Birth: 3/05/2012
Description: male, merle, natural ears
All images and text on this site Copyright © 1998-2023 Harlequin Haven Great Dane Rescue, Inc. unless otherwise credited. Use of any image or text without written permission is expressly forbidden. All rights reserved.