Christine - ADOPTED
I am one of the Pickaway County Cruelty case Great Danes. I am a very sweet girl and can't wait to find my forever home.
I am a very good girl I just want to please.
I recently was rescanned for a micro-chip and one was found. Being so young at the time I do not remember what happened at that time but the Hunte corporation has filled in the blanks for me. When I was 9 weeks old, I was sold by the Hunte corporation in Missouri and shipped to Petland Carriage Place in Columbus, OH on a semi trailer. Then sold to a hoarder, who now is on the run from the police!
Petland claims to have found homes for more then "more than 19,686 homeless puppies" my question to Petland is. How many did they "SELL" to abusive & neglectful homes like me?? Did you check out these homes prior to placement? A reputable rescue/shelter takes back their dogs if the home doesn't work out, so WHY do you only place puppies? Are there NOT homeless adult dogs needing homes? How many are NOW in rescues and animal shelters because they were sold to anyone that had the money or a credit card?? What is Petland doing to support the rescues and shelters that are being inundated with homeless dogs because of their careless placement of animals? Petland what are you doing for me? You are the reason I am at rescue, You are the reason I was abused and neglected, You are the reason so many dogs are suffering!!
PLEASE if you care about animals at all Boycott Petland and its corporate sponsors Nutro Pet Foods & Coastal Pet Products and let them know why!
ADOPTED: I Now have a wonderful forever home better then I could ever dream of!! I never knew life could be so great!! I am starting a new life so I got a new name, my new name is Chelsea.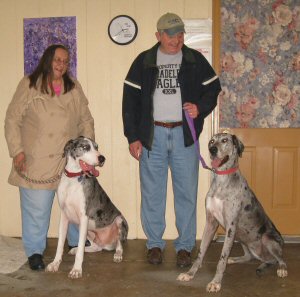 My dream has came true!! My forever family!!
Click here for more pictures
Before Picture Below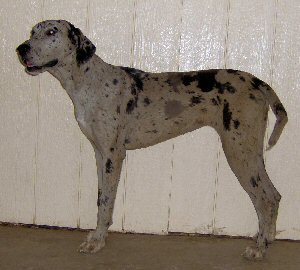 Date of Birth: 2/26/2005
Description: female, merle, natural ears

All images and text on this site Copyright © 1998-2022 Harlequin Haven Great Dane Rescue, Inc. unless otherwise credited. Use of any image or text without written permission is expressly forbidden. All rights reserved.