Harlequin Haven Great Dane Rescue
Charlotte
When our owners no longer wanted my pups and I they called the Adamís County Animal Shelter to come and take us away. Thankfully the Dog warden cared enough to call HHGDR.
I thought my pups and I were going to die when we arrived at the shelter. You hear such horrible stories about animal shelters. We were treated quite well our one night in the shelter it was warm and dry and had plenty of food and water. The next morning we were loaded back in the truck, they kept saying we were going to a better place but I did not believe them. Then we arrived at another shelter, this was a much newer shelter. We waited outside in the truck for a few minutes then a group of people came out and was looking at us. Then we were put into another truck and soon after we arrived at the rescue. Wow was this different then I had ever seen. We were taken right into a building and given our own room. It did not take long and my pups were adopted unfortunatley for me I was a small black Dane and not many people were interested in me.
Then one day my life changed a young couple arrived and I came out to meet my new mom, dad and brother Jake. Mom and dad take us places to play with other dogs called a dog park, they say it helps to settle us down while they are at work. I love to explore while mom and dad are not home so I guess this is what they are talking about.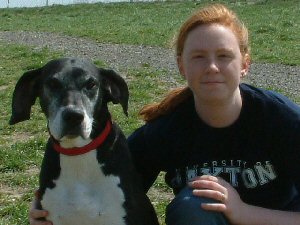 This is my mom and I, doesn't she look proud!!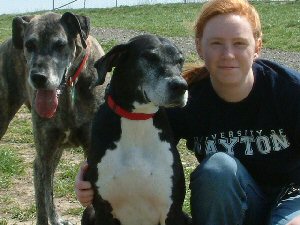 Almost a family protrait!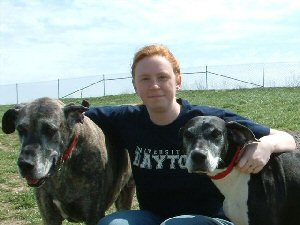 My brother Jake, mom and I still posing while dad takes pictures!!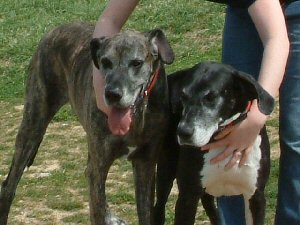 Okay enough pictures it is time to go play!!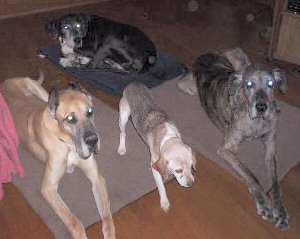 We have a new brother, his name is Indy!!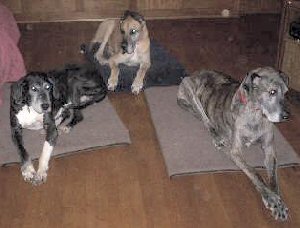 About time I am in the front of the picture!!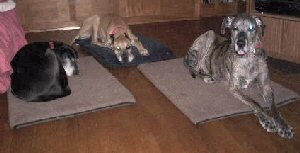 Okay it is nap time!!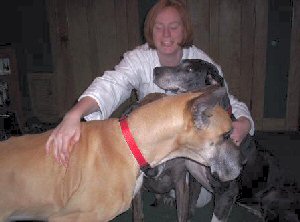 Mom don't forget I am the princess!!
All images and text on this site Copyright © 1998-2023 Harlequin Haven Great Dane Rescue, Inc. unless otherwise credited. Use of any image or text without written permission is expressly forbidden. All rights reserved.