Buddy
The Brown County Animal Control Officers were out on a cruelty case but were given the wrong house number when they stumbled across me. I was chained to a post and my shelter was a plastic children's playhouse. My chain was so short that I could barely back my butt into the playhouse and no way I could get completely into it. When they saw me they immediately went to my owners house and started asking her questions. She claimed to just had me to the vet and that I was in perfect health!! The ACO asked which vet and all she could say was the one in Georgetown, fortunately there are several so they did not believe a word she said. She also told them that she had purchased me from a breeder in Georgetown several years ago. They told her that they would be charging her with cruelty if she did not immediately release me to them, plus they told her the fines she would be facing because I was not licensed. To my surprise she quickly signed the release and they grabbed me up and they immediately called HHGDR. I was brought directly to the rescue where I was greeted with open arms. I was very scared I had not been off my chain nor in a truck my whole life!! I now have a nice soft bed and am living in air-conditioning and every time I go outside to relieve myself I come back in and find more food waiting for me!! There is no doubt in anyone's minds that I had been anything but abused. I was terrified of people and had definitely been starved!! The rescue also said that it appears that I was very sick when I was a puppy and had something called HOD, because of the deformity in my hind legs.
I may not have been the best looking Dane at the rescue but I found the best forever home a guy could ask for!!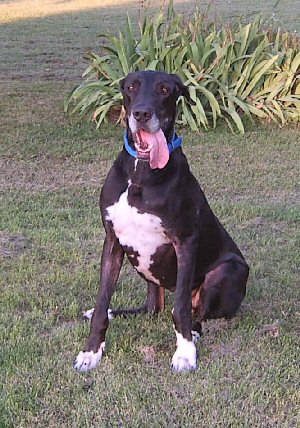 This is my yard!!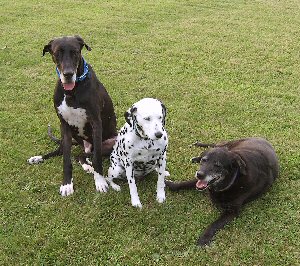 Of course my 4 legged family!!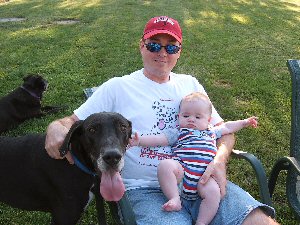 My dad and Megan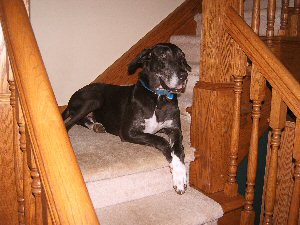 I love watching you all work!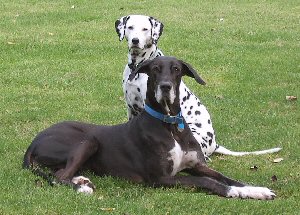 Aren't we handsome!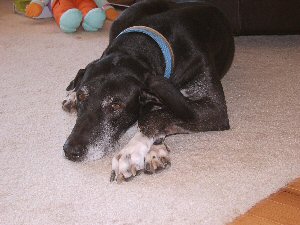 I am bored!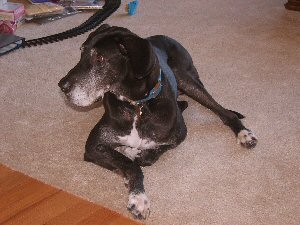 Is it dinner time!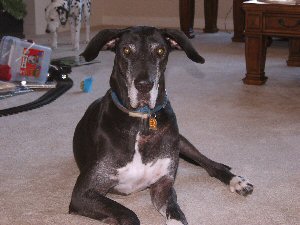 Can ya change the TV station?

All images and text on this site Copyright © 1998-2021 Harlequin Haven Great Dane Rescue, Inc. unless otherwise credited. Use of any image or text without written permission is expressly forbidden. All rights reserved.