Bryan - ADOPTED
ADOPTED: So many people thought that Bryce and I needed to be separated to find a forever home, but Grandma said that the perfect person was out there just waiting to find us and today we found her!!! As you can see, we are the perfect family!!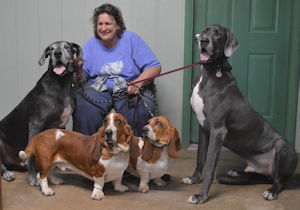 The best family portrait ever!!
Before Pictures & My Story Below
Bryce and I were thrown out in Cheviot to fend for ourselves but after dodging cars for several hours the wonderful Cheviot Police Department was able to get us both to safety and handed us safely over to the dog warden at Cincinnati Animal Care. It is apparent that our owner was either unable or just not taking care of us as we both are at least 30 pounds under weight, and I have horrible hair loss and trust me I was freezing when we were running the streets.
As soon as our stray time was up Harlequin Haven was there to pick us up. We now are sleeping on soft beds; we have tons of toys, and we are eating 5 meals per day!!! I am not sure what I appreciate the most the warm housing and soft bed or the food? Of course, with the Thanksgiving Holiday tomorrow I will have to wait to go to the vet till next week, but I have already been started on antibiotics!
Update 11/24: Happy Thanksgiving everyone!!! I love eating and I love laying on the loveseat!! Unfortunately, my trip to the vet will be delayed I now have kennel cough and am being treated for it as well as my lack of hair!!
Update 12/02: Well great news!! Since I was already on antibiotics for my skin issues it helped me get over my kennel cough!! I am feeling much better and I am enjoying snuggling with Grandma or anyone that is hanging around!!
Update 12/02: I just got home from going to the vet's office. I am loaded with whip worms and according to my bloodwork I still have some infection in my body. So, I will be changing my antibiotics and yep Bryce and I are going to be wormed. That sounds disgusting. But Grandma says I will feel better soon!
Update 12/17: I am feeling much better!! I have been wormed twice and I am gaining weight much better but unfortunately my hair is not coming back as quickly as I would like!! Ya know it is too cold outside not to have a full body of hair!!
Update 1/15: Sorry for the delay it has been a hectic month!! My hair is back, I have gained all my weight and I was neutered and NOW that Santa gave me a bunch of new toys I am playing every day with my toys!! I am a very sweet and loving boy and just want a forever home that will love me as much as I will love them!! Also, although I love Bryce if we do not get adopted together that is okay we both just want to be happy!!
Update 4/17: Bryce and I have some wonderful news we want to share with the world!! Grandma and the directors of Harlequin Haven have agreed that we are a bonded pair!! If ya did not know what that means, well it means we must be adopted together!!! I love Bryce and he loves me and we have been through a lot together and we decided it is together or nothing!! Thanks for understanding!!
Update 5/14: Bryce & I are still waiting for our forever home. We decided that maybe seeing us together might help, Yes I also added a couple of myself so you can see how handsome and healthy I am. Check out the pics below. We are the perfect pair! HEY if you do not believe me ask Grandma!!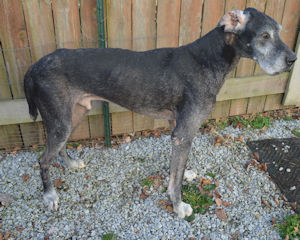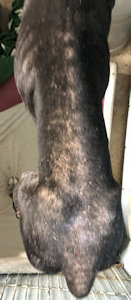 11/23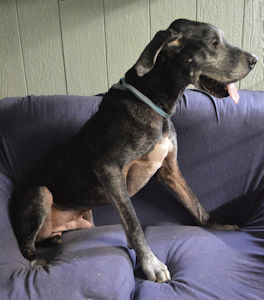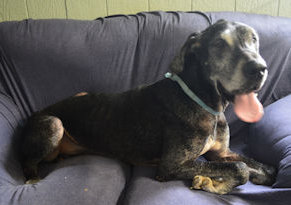 11/24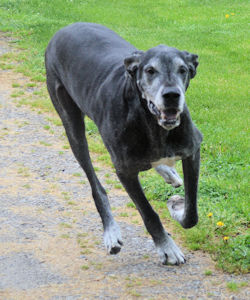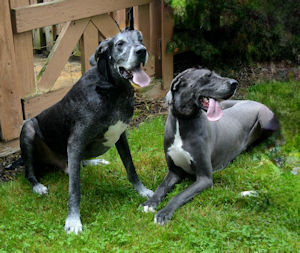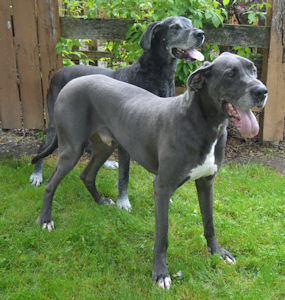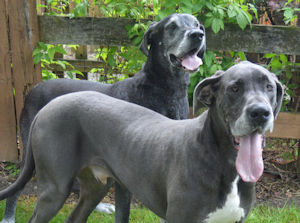 5/14
Date of Birth: 10/2018
Description: male, black with white marks, natural ears, slightly docked tail
All images and text on this site Copyright © 1998-2023 Harlequin Haven Great Dane Rescue, Inc. unless otherwise credited. Use of any image or text without written permission is expressly forbidden. All rights reserved.