Brian - ADOPTED
My owner left one day and never returned home. Everyday I would look out the window to see if our owner was coming home but he never returned. Days grew into weeks, then a month, after about 45 days I saw a man peeking in the window at first I thought I was seeing things then I climbed up to see who it was, it was a Sheriffs Deputy. I barked at him pleading and begging for him to come and save us but he turned around an left. I sank to the floor knowing my days were numbered. I had already watched 2 of my best friends succumb to starvation, myself and 1 cat were hanging on by a thread growing weaker by the minute. Although we were starving the thought of eating our best friends was out of the question. It seemed like days passed but they tell me now it was just an hour or so and the wonderful sheriff came back with help. They quickly loaded us in a truck and rushed us to the vet where they started life saving medical treatment. It was decided I should come to rescue where I could and would receive proper medical care and placement.
I arrived yesterday at Harlequin Haven and I was given a soft bed and toys. I am being fed every few hours so that I do not get sick or bloat. I weigh 74.6 pounds. I am not a huge boy but sure could use another 30 pounds!!
Update August 21: I have been at the rescue almost 1 week and had my day to weigh in this afternoon. I now weigh 87.6 pounds. I will be weighed again next week and hopefully will have gained another 10 plus pounds!! Well time to eat again!!
Update August 30: Sorry I forgot to update my page I was too busy playing with the other dogs. I weigh 90.4 pounds and still have more to go! Grandma said my lack of weight gain this week was because I was playing to much with my new best friend Landon.
Update September 13: Well to be honest I had not forgotten to update my webpage I just been busy playing with the other Danes. Grandma says I am just about ready for adoption I need to gain just a few more pounds. I now weigh 99 pounds. I have added new pictures below so you can see how much better I am looking. Oops almost forgot for all that have been emailing about me wanting to adopt me Grandma says I will be ready soon so go ahead and fill out the applications.
ADOPTED: I have found my forever home and will never want for anything again!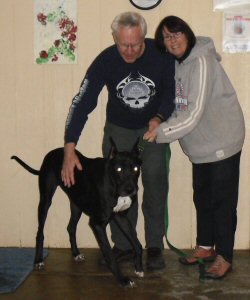 My new mom & dad!
Before Pictures Below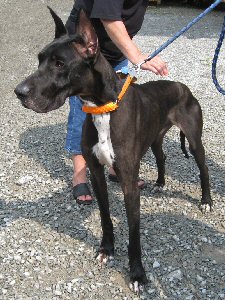 Hard to believe this collar once fit me!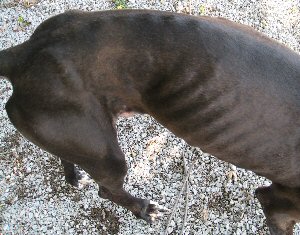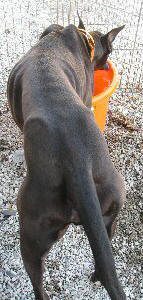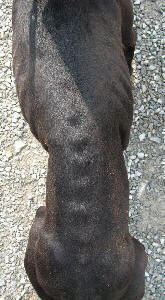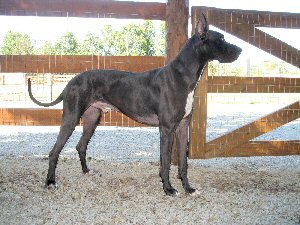 9/13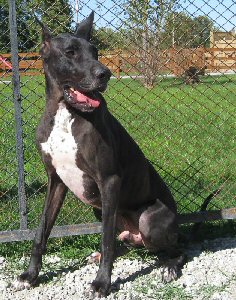 9/13
Date of Birth: 6/9/2006
Description: male, black with white marks, cropped ears

All images and text on this site Copyright © 1998-2023 Harlequin Haven Great Dane Rescue, Inc. unless otherwise credited. Use of any image or text without written permission is expressly forbidden. All rights reserved.