Boris
I was found roaming the roads in Montgomery County. When a farmer decided to shoot me, his neighbors caught me and brought me to HHGDR.
I had been at the rescue for 2 years and 11 months and few people looked at me during this time. I had given up on finding a home since most people do not want a black-white marking with natural ears. But one day a wonderful family came and looked at me and well to be honest I figured that is where it would end with just a look and a few kind pets. Well the next week they came back to get me then I got really scared because heck the rescue was my home. The people at the rescue sat with me for an hour telling me how wonderful my new home would be if I just gave it a chance. So with the promise I could come back if I was not happy, I decided to give this family a chance.
Well I am happy to announce that I am very happy!! My new family was very understanding and patient with me my first week and within days I knew this was my forever home. Mom says I am the Dane she has always wanted and Dad is amazed at how laid back I can be. My little sister is so gentle and sweet that I can not imagine life without her. I hope that other kind families out there give other Danes the chance for happiness that I have been given.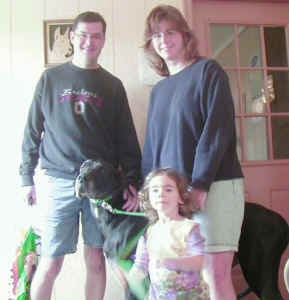 My new family the day they adopted me!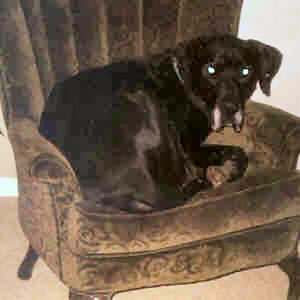 This is my favorite chair!!!
All images and text on this site Copyright © 1998-2023 Harlequin Haven Great Dane Rescue, Inc. unless otherwise credited. Use of any image or text without written permission is expressly forbidden. All rights reserved.