Annie
1989 - January 30, 2006
Annie was taken in by the Clermont County Humane Society as the result of an animal cruelty case in June, 1992. She was one of many animals that were confiscated when charges were filed against their owner. Of the dogs that were still alive, Annie was in the worst shape. She was taken directly to the veterinarian's office where it was discovered that she was being eaten by maggots both internally and externally. She was so dehydrated that they couldn't draw even 1 ml. of blood for a heartworm test. She had every worm known to infest dogs except heartworm. She and the other dogs had been living on dirt, grass, feces, and whatever else they could find in their pens. At the end of one month at the veterinarian clinic Annie still needed a lot of medical care, and since the Humane Society had lost the claim for medical costs in the trial, they told the vet to put her down. The vet called Harlequin Haven Great Dane Rescue and asked if we could help. The veterinarian offered to provide the medicine if we would provide the care. Annie was still too weak to walk or stand on her own.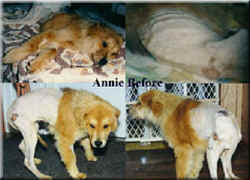 Annie has never learned to trust people in general and is judged to be unadoptable because of her fear of humans. She now lives at Harlequin Haven Great Dane Rescue, is a very loving pet, and is devoted to Tom and Dale.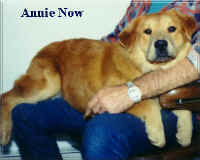 All images and text on this site Copyright © 1998-2023 Harlequin Haven Great Dane Rescue, Inc. unless otherwise credited. Use of any image or text without written permission is expressly forbidden. All rights reserved.