Annabelle
I was adopted from the rescue in 2002, since then my owners moved to KY to a home with lots of steps. I fell down the steps and my owners decided it was best to return me to the rescue. It only took grandma one glace at me to know why I was falling down the steps. I was 40 pounds overweight. Yes I was extremely obese which I guess explains why I was having problems going up and down the steps. I weighed in at the rescue at 151 pounds I should have weighed about 110 pounds. Grandma also had a thyroid test ran and sure enough that was part of my problem!! It took months to get all that weight off but I finally managed to get it off!! Of course few people were interested in adopting me because I am old and also need thyroid medicine!
So I decided to start working on the volunteers, after all they interact with us and get to know us best!! I set my eyes on this handsome man! He would be my new dad I just had to convince him of that!! He was easy though, every time he came he rubbed my belly and ears and would play with me. Of course I played hard to get at first but I decided one day I was not getting any younger so I had to make my move!! I had almost given up but he did not let me down!! He gave me the best Christmas present ever!! A forever home!!!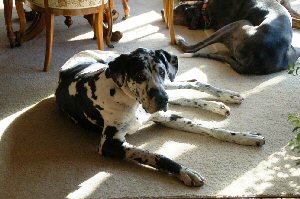 Where is dad? I need a belly rub!!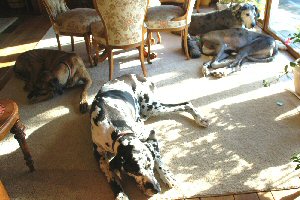 Maybe I will take a nap in the sun!!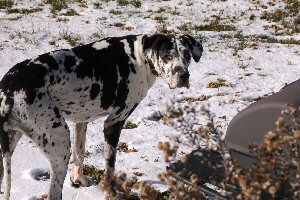 Excuse me I would like some privacy!!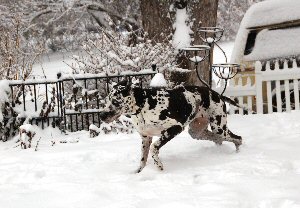 I'll teach you to call me old!!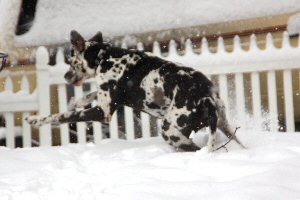 I can run and jump just as good as those young dogs!!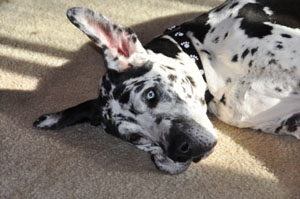 All the better to hear you, my dear.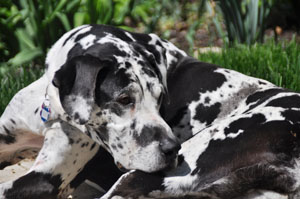 Someone get that fly off me!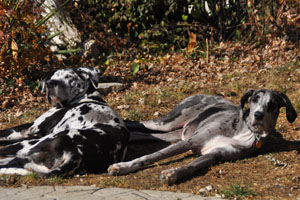 Enough with the camera!!!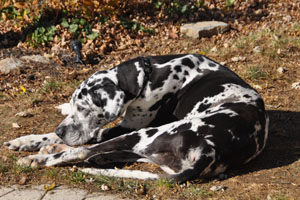 It's so peaceful!!
All images and text on this site Copyright © 1998-2023 Harlequin Haven Great Dane Rescue, Inc. unless otherwise credited. Use of any image or text without written permission is expressly forbidden. All rights reserved.