Andy AKA Zed
I have had so many homes in my young life that I have lost count. My last two were "Free to a Good Home". Not that they did not love me and care for me but they had no clue how to care for and handle a young active male Dane. The first one I was given to in a parking lot in Cincinnati and the apartment owner did not allow dogs of my size. When he could no longer keep me he put an ad up at his work "Free to a Good Home" The second also lived in an apartment but was unable to provide me with the exercise I needed so I had a lot of pent up energy which she assumed was aggression. She took me to a trainer, what a joke that was!! They were afraid of me even when I behaved!! They showed my owner how to jerk me around with pinch collars. They just kept hurting my neck and told her to do this to make me behave. Don't they know that is NOT how to train a dog!!! I guess anyone can be a "dog trainer"!!
I am now in my forever home and am so happy!! I love my new family!!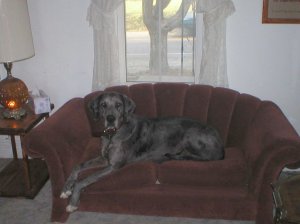 This is MY couch!!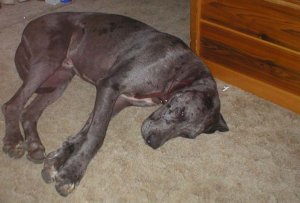 Enough with the camera dad!!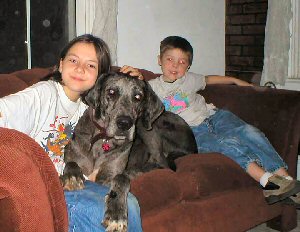 Here I am resting with my brother and sister!!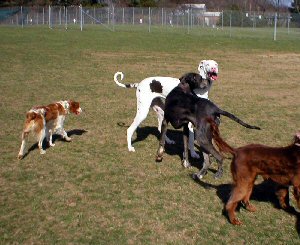 Here I am at the dog park with some of my friends!!
All images and text on this site Copyright © 1998-2023 Harlequin Haven Great Dane Rescue, Inc. unless otherwise credited. Use of any image or text without written permission is expressly forbidden. All rights reserved.