Ainsley - Adopted
I was listed on Craig's List along with Landon several months ago and we were suppose to go to the PA Great Dane Rescue then the word started spreading that I was pregnant so suddenly everyone wanted us! The woman that had us decided not to send us to the PA rescue and instead to sell us as a breeding pair!
We went from living in a barn to living in a garage on chains!! I guess they finally realized I was not pregnant when after 2 months I never had puppies. So back onto Craig's List we went!! This time Harlequin Haven had room for us and another rescue offered to pick us up and deliver us both. We arrived the next evening! It was a long ride but when we arrived we were given a warm welcome, a nice dinner and soft warm bed inside! We are no longer living in a garage or a barn!!
I am in the middle of a false pregnancy but Grandma promises that as soon as it is over I will be spayed then I will not have to endure this misery again!!
Update December 15: Well I have only been here a few days and already bad news. I am heartworm positive! I now will have to undergo heartworm treatment! Grandma pulled lots of my blood today and said I needed tests run. I am not sure what all is being run but I hope I do not have anymore bad news!Update April 12: Sorry it has been so long for an update but I have been busy getting healthy! I had to first and foremost get out of my false pregnancy which took forever!! Then I was spayed so I would not have another false pregnancy plus never get pregnant again (very important stuff huh)! Then I was treated for my heartworm and in a few more weeks I will be retested and if all is still good I will be available for adoption and I can not wait!!! Grandma says I have changed so much, now I am so happy all the time. I love life and everyone one in it!! Okay keep watching I promise as soon as I get the alls clear for the heartworm I will let you know!!
Update May 3: I am now heartworm free!! I am a healthy and happy girl!! I love people and getting lots of love an attention although I can be shy sometimes! My life that I had before is behind me now I am ready to move on and find a wonderful loving family that will love me and treat me the way I should have been treated all along!! I will ask Grandma to take a new picture of me so you can see how beautiful I am now!!
August 5: Grandma finally got around to adding a new picture of me. Okay so I still am not thrilled with having my picture taken but you must admit my body looks much better!!!
ADOPTED: I have found my forever home and it was well worth the wait!! One that understands the commitment needed, the love wanted and so greatly needed! I love my new family!! I now have a new life!!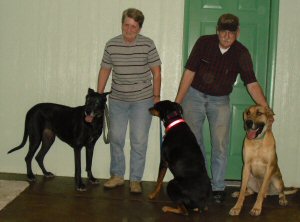 My new family!!!
Click here for more pictures
Before Pictures Below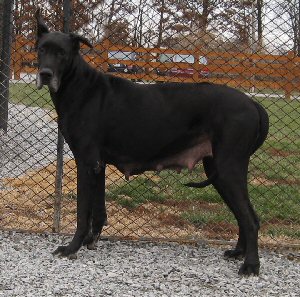 12/08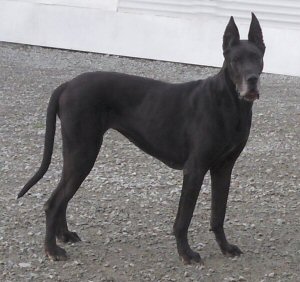 8/10
A must to read before picking your forever Dane!
Black is Beautiful
Date of Birth: 12/2003
Description: female, black, cropped ears

All images and text on this site Copyright © 1998-2023 Harlequin Haven Great Dane Rescue, Inc. unless otherwise credited. Use of any image or text without written permission is expressly forbidden. All rights reserved.