Penelope - Sanctuary
No I am not a Great Dane but I do deserve a wonderful loving home!! Grandma found me at the local animal shelter and well the rest is history!!
Update 11/10: Yep I am still here and still waiting for someone to adopt me!! I got my picture taken today check it out below!!! I am just the cutest little girl!!
Update 12/25: Thank you, Thank you Santa!!! I LOVE my new toys!!! Okay I gotta go play now!!!Update 12/14: Wow time sure flies!!! Check out my new pictures below!! I am so cute & adorable!!
Update 5/26: We (Marissa and I) were returned to the rescue after only a week in what I thought would be our forever home and although I loved having that home I decided it is too much work being adopted! I asked Grandma if I could check out living in her house and being a sanctuary dog and she said yes!! So I spent the last 24 hours in Grandma's house and ya know what I LOVED it!! Nothing is expected out of me other then to go outside to potty!! I am allowed on the furniture and there are a ton of toys and other dogs to play with what more can a girl ask for!!
Please can you spare a few dollars to help the Rescue continue to help me and other Danes like me? It would be greatly appreciated. Without the Rescue who knows where we would have ended up!!
Thanks, Penelope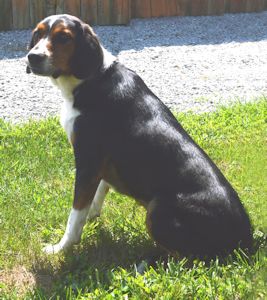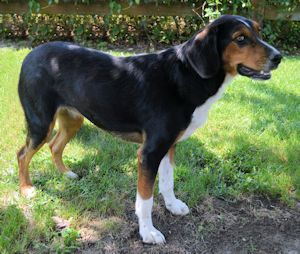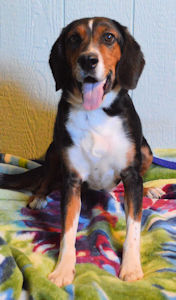 11/10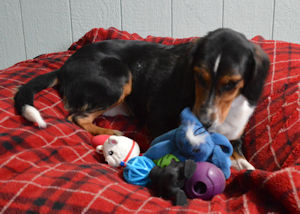 12/25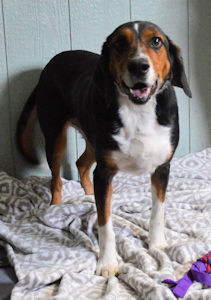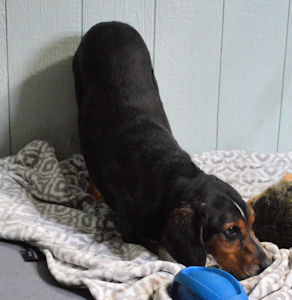 12/14
Breed: Beagle Mix
Date of Birth: 11/17/2015
Description: Female, Tri color
All images and text on this site Copyright © 1998-2022 Harlequin Haven Great Dane Rescue, Inc. unless otherwise credited. Use of any image or text without written permission is expressly forbidden. All rights reserved.