Kingston

My sister (Bekka) and I were purchased from a backyard breeder by a backyard breeder as a breeding pair. When she fell onto hard times she contacted her puppy owners to see if anyone wanted us telling them we would go to the Animal Shelter if she did not find a home for us. So one of her puppy owners agreed to take us and then after not following thru when Dane Rescues offered to take us she dumped us at the Butler County Animal Shelter. The shelter quickly called Harlequin Haven and they immediately came to get us both. We are now safe and enjoying life. We are being fed 4 times a day because we both are underweight. We love to eat and love the attention we both are receiving!
Update: I have been at the rescue less then 2 weeks and although I had Bordetella (Kennel Cough) and was very sick when I arrived at the rescue I have gained all of my weight. My ribs and hip bones no longer stick out! I am a very happy and healthy boy!!
Update October 27: I have a new picture and am NOW ready for adoption!!!
Updated: I was adopted in January and returned in June, almost 5 months to the day. Unfortunately I am no longer able to look for my forever home, I now have a bite history! I bonded very quickly with my adoptive mom and one day her daughter got between us and stuck her face in mine. I reacted without thinking and well the rest is history! However I now do not feel the need to protect and I know that my Grandma will always be here for me. I am loved, happy and yes I have a forever home. The rescue is my forever home!!
Please can you spare a few dollars to help the Rescue continue to help me and other Danes like me? It would be greatly appreciated. Without the Rescue who knows where we would have ended up!!
Thanks, Kingston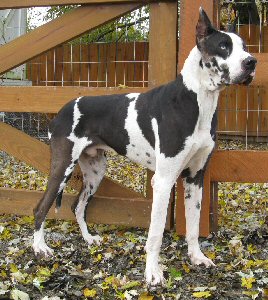 Date of Birth: 4/4/2007
Description: male, harlequin, cropped ears

All images and text on this site Copyright © 1998-2019 Harlequin Haven Great Dane Rescue, Inc. unless otherwise credited. Use of any image or text without written permission is expressly forbidden. All rights reserved.