Jazzy
A nice man had set a trap to catch another Chihuahua that had ran away from home and well the food inside was yummy so I decided to have dinner. Well when the nice man spoke to my owners family he found out that they were not able to get me the medical care I needed. I had huge mammary tumors which made it very difficult to walk! So my family released me and I was brought to Harlequin Haven to get the medical care I so needed!! Within a few days of arriving at HHGDR I had surgery to remove the mammary tumors and was spayed. I have a follow up with the vet next week and if all goes well I will be looking for my forever home!!
Just so all is clear, Grandma forced me to wear that stupid shirt so I would not lick my stitches!! I hate wearing clothes so do not think I am a dog that will be wearing clothing!!
Update 9/23: I am ready for adoption. I only weigh 4.5 pounds and am very independent!! I do not like to be held, carried or dressed in stupid clothing!! If you want to pet me you best do it very gently or else I bite!!!
Update 12/25: Thanks Santa for the toys and new dog bed!! I don't think I have ever gotten so much for Christmas before!!! Thanks again!!!
Update 11/3: Yep I am still here and I am as happy as a bug in a rug!! I have my own bed and bedroom and tons of toys and blankets. I am however sharing my bed and room with a new girl her name is Wynter and she has had a hard life. At first I was not too happy about sharing but after I got to know her she is kinda nice and I do remember what it felt like to be hungry and homeless. I have placed some new pictures below.
Update 12/25: Thank you Santa for the really neat shirt!! I do love hanging with the big dogs, they are the best!! I also loved all the treats and my new snuggly blanket but mostly thank you for not giving me toys this year. I still do not understand the big deal about toys!
Update 9/05: I have finally gotten my wish I will stay with Grandma here at the rescue!!! Okay I knew when I arrived I was not going anywhere but people are not as bright as us dogs!! I mean after all how many people will adopt a 4 pound dog that doesn't want to be held!!
Please can you spare a few dollars to help the Rescue continue to help me and other Dogs like me it would be greatly appreciated. Without the rescue who knows where we would have ended up!!
Thanks, Jazzy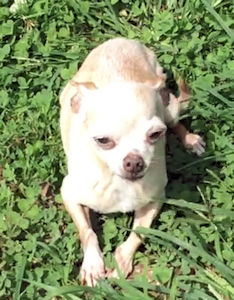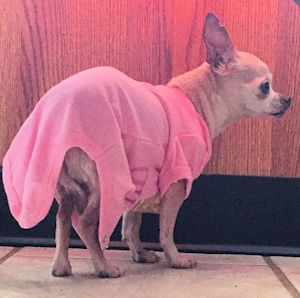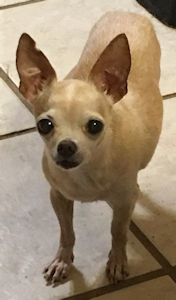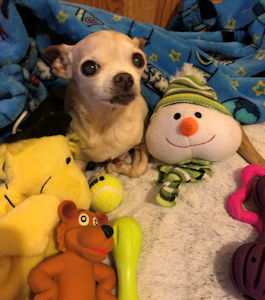 12/25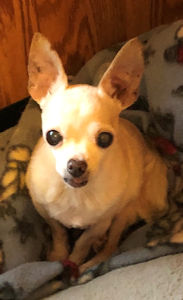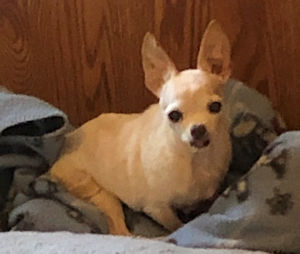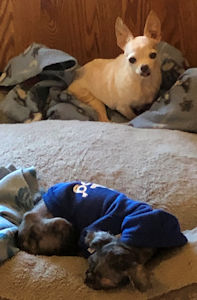 11/3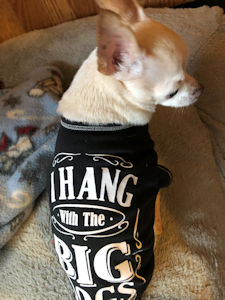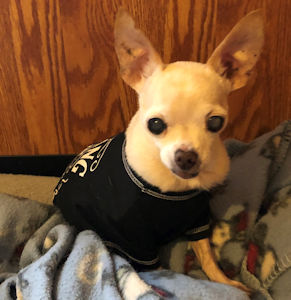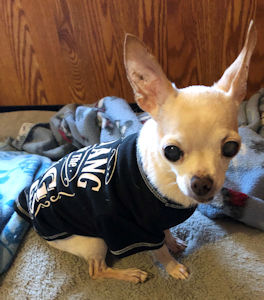 12/25
Breed: Chihuahua
Date of Birth: 7/2009
Description: Female, fawn
All images and text on this site Copyright © 1998-2023 Harlequin Haven Great Dane Rescue, Inc. unless otherwise credited. Use of any image or text without written permission is expressly forbidden. All rights reserved.