Dawn
I was purchased as a tiny puppy at the Turtle Creek Flea Market. I have lived my whole life outside on a farm. One day my owner got mad at me and as he proudly boasts he used his Black Belt Karate moves on me till I fell to the ground limp and unconscious.
When I woke he took me to the Highland County Humane Society, he told them that he would have shot me but it was too cold to dig a hole to put me into.
As soon as he left the nice women at the Humane Society called HHGDR to come for me. The next day they came to get me. Even though I was hiding in the corner of my dog run growling and barking the woman I how know as Grandma did not mind. She just kept telling me I would be okay and I decided to trust her.
I am now at the rescue and yes I have a lot of problems to work out. I am terrified whenever a stranger comes at me, but Grandma says that time heals all. I know she is right because in less then 24 hours I have learned to trust her and Aunt Thelma.
I have came a long ways in a short time. I am not afraid anymore of people unless they raise there voices, I love getting attention and living inside. My life is so much different then it was a month ago. I help Grandma out a lot too! I love helping her and I can tell she loves it too!! Ya know a girl could get spoiled by this type of treatment!!
December 23, 2009: I have decided to stay at the rescue since I have been here so long and few people are interested in a Dane that can jump 5 foot fences and the rescue is a safe environment for me. I told my Grandma and Grandpa that this would be the perfect Christmas present and they agreed!
Please can you spare a few dollars to help the Rescue continue to help me and other Danes like me it would be greatly appreciated.
Thanks, Dawn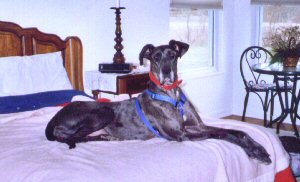 Date of Birth: 12/23/2003
Description: female, merle, natural ears

All images and text on this site Copyright © 1998-2023 Harlequin Haven Great Dane Rescue, Inc. unless otherwise credited. Use of any image or text without written permission is expressly forbidden. All rights reserved.