Darin - Sanctuary
My brother, Daryl and I are the product of a greedy backyard breeder who bred too many puppies!! According to the family that initially took us in, the breeder had 3 litters (26 puppies) at one time!! None of us have been socialized yet, and most of us, at the very least, have Demodectic mange. My brother and I are lucky that the family that first took us in quickly realized they were in over their heads and contacted Harlequin Haven for help. A nice gentleman came and picked us up and brought us to the rescue where we are going to receive the love, affection and medical care we so greatly need. We now have a soft bed, yummy food, tons of odd things that the other dogs told us were toys, and best of all... air-conditioning!!!
Update 6/14: Grandma told us we had to give you an update if we wanted more dog biscuits so since we will do anything for yummy dog biscuits (well almost) we figured we would give you an update!! We are still afraid of humans but we get lots of yummy food and treats several times a day and we get to play with other dogs so humans aren't all bad! Grandma said we have came a long ways but still have a long ways to go!! Oh yeah grandma gave us some yucky liquid on our food yesterday and today our bellies feel much better and our poo is full of dead worms!! Yeah that is gross but HEY I am a boy and I am not lying!! Okay NOW I want my doggy biscuit!!
Update 7/9: (It is my turn to cheat I have copied Daryl's update) Well Grandma said we had to give you a quick update!! We have been here almost a month and we were starting to trust humans a bit than Grandma had us neutered, we did not like that!! We are starting to forgive humans but it is tough!! We love to play and love to eat and we love all the toys we have so guess life is not bad!! Okay there is our update NOW we can go play and get more biscuits!! We love doggy biscuits!!!
Update 7/30: Wow time sure fly's when you are having fun and we are having fun!!! Today was our turn for grooming so we got our ears cleaned, nails trimmed and we even got baths!!! Then we got our pictures taken and played with the volunteers!! Not a bad day!! Check out my new pictures below!! I sure am getting big and I am very handsome!!!
Update 11/19: My brother Daryl and I have Great News, well at least we think so!!! Although we have came a long ways in trusting a few humans the reality has set in that we will never be adoptable. Unfortunately not being socialized as puppies has done damage beyond repair. This makes us happy because NOW we both know that we will be safe forever!!
Please can you spare a few dollars to help the Rescue continue to help me and other Danes like me? It would be greatly appreciated. Without the Rescue who knows where we would have ended up!!
Thanks, Darin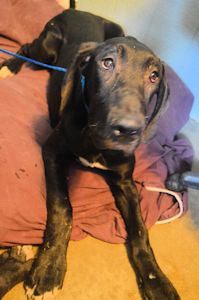 6/11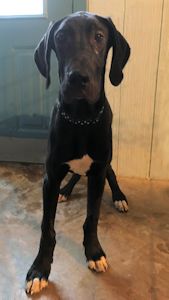 6/14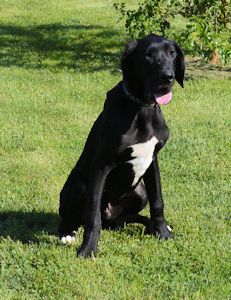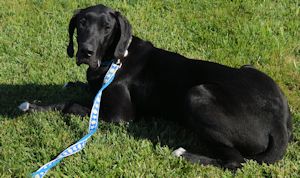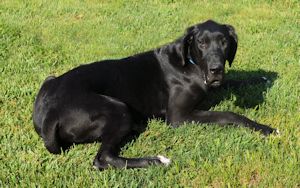 7/30
Date of Birth: 11/27/2016 Breeder: Angela Lynch-Palmer - Pawmer Danes
Description: male, black with white marks, natural ears
All images and text on this site Copyright © 1998-2023 Harlequin Haven Great Dane Rescue, Inc. unless otherwise credited. Use of any image or text without written permission is expressly forbidden. All rights reserved.