Chessa - Sanctuary
My owner dumped me when he claimed I was too much dog for his family. He had purchased me from a backyard breeder when I was 10 weeks old. He claimed to have contacted my breeder to see if she would take me back and said that she refused, but the rescue has been unable to locate my breeder.
I am a very sweet girl but I am shy and love to run to my Grandma when I get insecure. I would love a family that will play with me and protect me when I am scared. Check out my new picture below!
Update: My Christmas wish was granted this year! I have always known this was to be my forever home, now it is official. I have never trusted anyone but Grandma and Grandpa and although they have tried to find me a forever home of my own they finally realized what I have known for years that this is my home. They have been my mommy and daddy since I came here so many years ago and will be forever!! Thank you Santa for the best present ever!!
Update 12/16/19: Well I celebrated my 10th birthday in August and life is still wonderful!! I still jump fences although not to go anywhere just to make sure I still can and you know the old saying the grass is always greener on the other side although I have not found that to be true!! I do love to go for car rides and so I thought it only fitting to take a selfie when I went on my latest car ride!! Yes I am a bit gray but I am still beautiful!!
Please can you spare a few dollars to help the Rescue continue to help me and other Danes like me? It would be greatly appreciated. Without the Rescue who knows where we would have ended up!!
Thanks, Chessa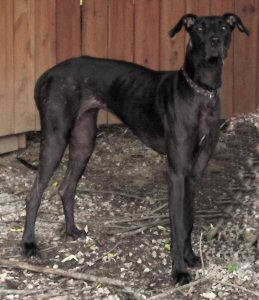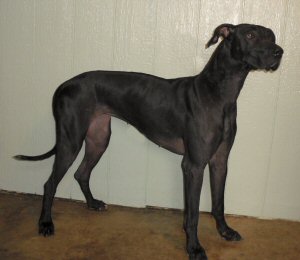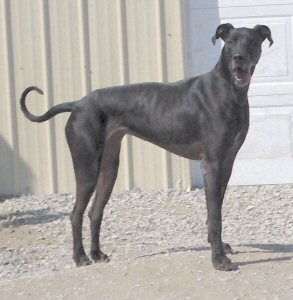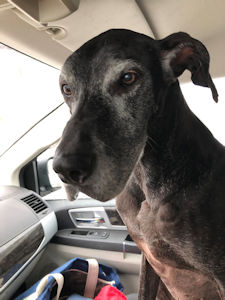 Date of Birth: 8/27/2009 Breeder: Tristen Ervin
Description: female, black, natural ears
All images and text on this site Copyright © 1998-2023 Harlequin Haven Great Dane Rescue, Inc. unless otherwise credited. Use of any image or text without written permission is expressly forbidden. All rights reserved.