Axle
On July 6, 2022, a tornado hit Goshen, Ohio and it changed my life forever. My dad had been taken to the hospital a few weeks earlier than the horrible tornado hit and although our home did not receive tornado damage, we lost electric for weeks to come. Then due to the horrible heat and we still had no electric my mom ended up in the hospital as well. With no one left at home my Uncle Joe who lives in Arizona contacted Harlequin Haven to see if they could help me. What he did not know is that I had not seen people up close other than my mom and dad for years. I had scared a vet tech after she scared me and of course it was my fault so because they were afraid, I might bite someone that it was safer to not have me around people. When my Aunt Brenda came to bring me to Harlequin Haven, she was a bit afraid of me but HEY I love car rides, so I jumped in with her and off we went. But things quickly went south for me cause once we arrived, and I got out to relieve myself, Aunt Brenda left!! I was scared but I decided I could stay here till Aunt Brenda came back for me, but hours, lead to days, lead to weeks, and she never returned. Then I decided to go on a hungry strike and Grandma here at the rescue was at a loss at what to do for me. I would not let her touch me and too be honest I did not want her or anyone anywhere near me. Finally, she contacted my Uncle Joe and asked him for help. He contacted my dad's sister Aunt Eva and she brought my mommy out to see me!! I was sooooo happy!! When mommy left, she told me to trust Grandma that she would not hurt me. So, I did!! Unfortunately, a few weeks later Grandma gave me the really bad news, my mom and dad were not healthy enough to take me back so I would have to stay here at the rescue. At first, I was again really angry, but Lynn told me to trust Grandma, and all would be good. So, I did and ya know what, life is not that bad!! Grandma and the volunteers give me hugs and kisses, plus yummy treats and I have tons of toys to play with and Lynn even shares the love seat with me!! Although I do miss my mommy and daddy at times overall life is good.
Just a quick update!! I really missed Lynn when she got adopted but ya know life is good!! I now have the loveseat and more hugs and kisses from Grandma and the volunteers so actually life is great!!
Please can you spare a few dollars to help the Rescue continue to help me and other Danes like me? It would be greatly appreciated. Without the Rescue who knows where we would have ended up!!
Thanks, Axle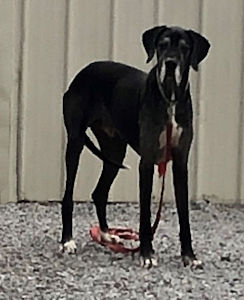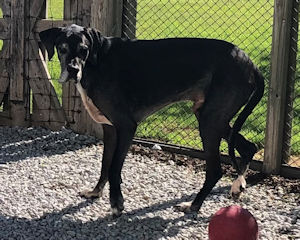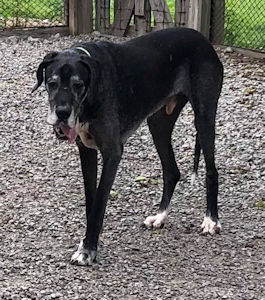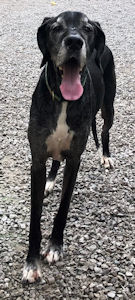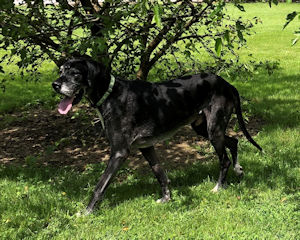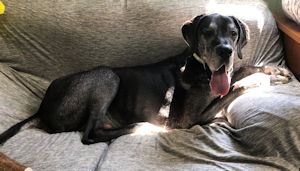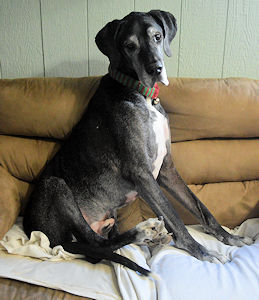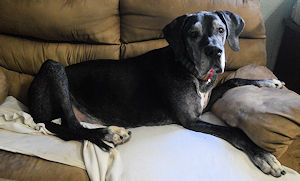 A must to read before picking your forever Dane!
Black is Beautiful
Date of Birth: 7/2014
Description: male, black with white marks, natural ears
All images and text on this site Copyright © 1998-2023 Harlequin Haven Great Dane Rescue, Inc. unless otherwise credited. Use of any image or text without written permission is expressly forbidden. All rights reserved.