Ari - Sanctuary
Pronounced: AH-ree
My owners thought that all breeders were reputable but they quickly found out that is not the case!! Just a few days after bringing me home they took me to the vet because I was walking "funny". Unfortunately for me, that vet was incapable of making a diagnosis. Weeks and months went by and even a change in vets did not find the answer to my awkward gait. According to the owners the breeder refused to take me back and finally my owners had to face a harsh reality when my medical bills were more than they could afford. A young couple with 3 small children and a puppy with major health problems meant something had to go. Since they could no longer provide the medical care that I needed they decided the kindest thing to do was to bring me to Harlequin Haven Great Dane Rescue. They knew the rescue had the experience, knowledge and love to care for me and that if anything could be done the rescue would do their best to make it happen. Within hours of arriving at the rescue, a Neurosurgeon was contacted and I had an appointment scheduled to see him! The news was not good. According to the Neurosurgeon I was born with congenital and believed genetic skeletal deformities referred to as Cervical Spondomyelopathy aka Wobblers Syndrome. The vertebrae's in my neck are all deformed. According to the Neurosurgeon, it was the worst case he had ever seen. He was surprised I was still walking! Unfortunately I am not a candidate for surgery. Although my birth defect cannot be fixed, the rescue loves me enough to allow me to live out my life giving and receiving snuggles and kisses.
Please, people do NOT make the same mistake my owners made. Carefully check out breeders before buying and when in doubt WALK AWAY!! I am lucky the rescue is here for me, that is, if you call having wobblers lucky! But many pups are not as lucky as I am. The sad reality is that when you purchase a puppy from a backyard breeder, puppy mill, or any disreputable breeder, yes, you are saving that puppy, but what about the other puppies? Consider also that you are lining that breeders pockets, encouraging them to breed more. Worse than that, the breeder is encouraged to continue to put poorly bred and unhealthy puppies into this world, many of whom will suffer!
Update 12/16/19: Check out my new pictures below. No one ever expected me to grow up to be so handsome!! I turned 5 in August and I am still the apple of my Grandma's eyes!!
My AKC Registration Application
Note: Registration Type: (near bottom of page 1)
The Breeder did not limit my registration - The breeder sold me as breeding quality
Please can you spare a few dollars to help the Rescue continue to help me and other Danes like me? It would be greatly appreciated. Without the Rescue who knows where we would have ended up!!
Thanks, Ari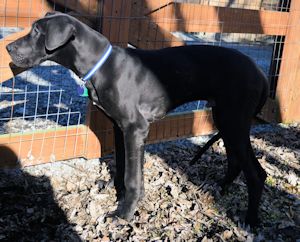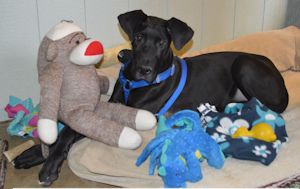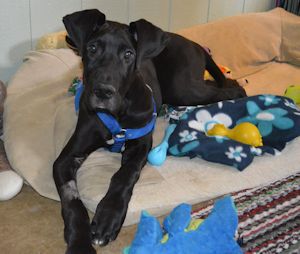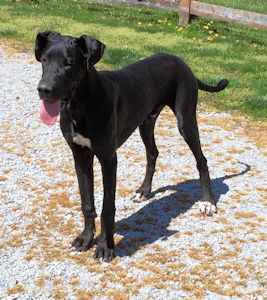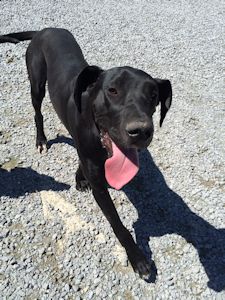 4/26/15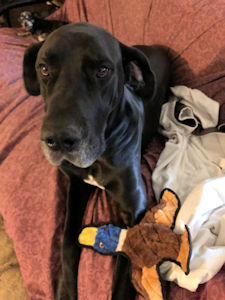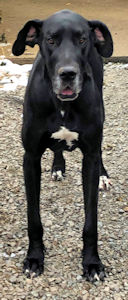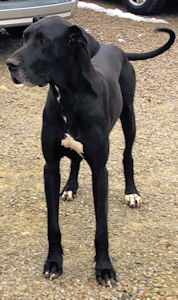 12/16/19
Date of Birth: 8/27/2014 Breeder: Heather Noelle Veneziano
Description: male, black with white marks, natural ears

All images and text on this site Copyright © 1998-2023 Harlequin Haven Great Dane Rescue, Inc. unless otherwise credited. Use of any image or text without written permission is expressly forbidden. All rights reserved.