Cahira
(ca-hi-ra)
Interested in adopting me? Click here for our >> Adoption Procedures
Please do not submit an application until I am evaluated and ready for adoption.
As you can tell I am not a Dane but I am here at Harlequin Haven Great Dane Rescue to hopefully get well and maybe in time find a forever home. My life was saved by Don at Lost Pet Recovery!! He cared enough to come and trap me (I was too scared to let people touch me, afraid they would hurt me). The next day Don drove over 2 hours to bring me here to Grandma. I am being fostered here until I am healthy enough to go to a foster home for LPR or to be adopted, they said that is all to be decided later.
The next morning Grandma took me to the vet. The vet found that I have diabetes, heartworm, lyme disease, hypothyroid, a corneal ulcer on my left eye and that I am dehydrated and as you can see emaciated, I weigh a whopping 36.1 pounds. But hey I do not have worms nor ear infections!!! I was so tired and weak when we were at the vets that I fell asleep on the x-ray table!!
I am now getting poked with needles everyday but although they hurt for some reason they also are making me feel so much better. Grandma is feeding me 6 times per day and I am loving every single bite!!
I just have 1 question for my owners that threw me out to fend for myself. Was I such a bad dog that you couldn't have taken me to a animal shelter or to the vet to have me humanely euthanized? Anything would have been better then dodging cars, struggling to stay warm in the rain and lets not forget starving because I could not find food!! Are you happy now?
Update 10/28: Today was spa day and although I never had a spa day before it was pretty great!! I got my nails cut, my ears cleaned and best of all I got a bath!!! The bath was the best!!! Oh yeah I also got weighted I now weigh 40.6 pounds!!
Update 11/05: I am feeling much better and sure do enjoy all the meals I keep being served, but I did not gain as much weight as Grandma wanted me to! I now weigh 41.8 pounds. Darn NOW I get more food!! YUMMY!!! I added some new pictures below just so you can see my progress. Although I do not look much better I sure do feel better!
Update 11/12: Great News!! I got on the scale today and I now weigh 45 pounds!!! My sugar is now under control so between that and the weight gain I guess I will not be having any more food increase so I guess I am stuck with just 7 1/2 cups of food each day!! I sure do love eating though!!! Okay time to eat again!!!
Update 11/20: More good news! I went to the vet this morning and I now weigh 47.9 pounds and my blood work was great!! I will be starting my heartworm treatment soon!!!
Update 11/26: I have added 2 new pictures of me, 1 is of me sleeping Grandma thought I looked adorable!! Also, I start my heartworm treatment tomorrow!!! Please keep me in your thoughts and prayers!!
Update 11/27: Just a quick update I now weigh 52.2 pounds and have had my first of 3 heartworm treatments. Please keep me in your thoughts and prayers as heartworm treatment is hard on a healthy dog and there is little to no research on dogs with diabetes having the immiticide.
Please can you spare a few dollars to help the Rescue continue to help me and other Danes like me? It would be greatly appreciated. Without the Rescue who knows where we would have ended up!!
Thanks, Cahira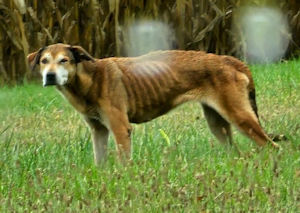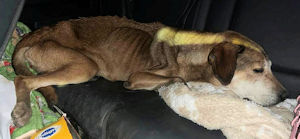 The above pictures are from Lost Pet Recovery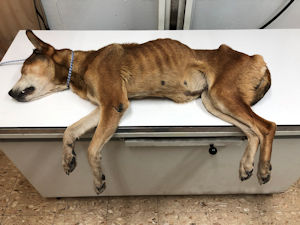 10/23
10/24

10/28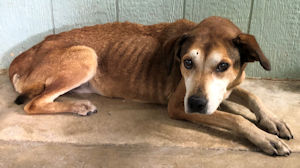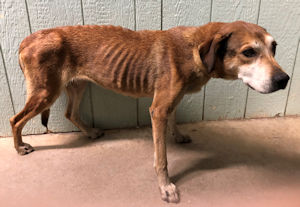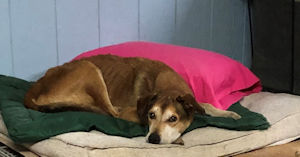 11/5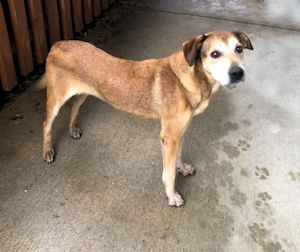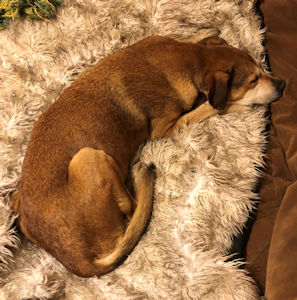 11/26
Not ready at this time!!
Date of Birth: 10/2011
Description: female, fawn, natural ears
HHGDR Suggests: Obedience Class
Good With: Dogs, Cats, Adults, Children
All images and text on this site Copyright © 1998-2023 Harlequin Haven Great Dane Rescue, Inc. unless otherwise credited. Use of any image or text without written permission is expressly forbidden. All rights reserved.