Noelle
Interested in adopting me? Click here for our >> Adoption Procedures
I was found roaming the rural roads of Fairfield County and taken to the animal shelter, when my owners never came for me the shelter contacted Harlequin Haven to come for me!! I am blind in my right eye and will be going to the Vet to have it checked out, next week.
Update 12/21: I went to the vet yesterday morning and the vet said I have scratches on my cornea and there is nothing that can be done. So since it is not painful I will not lose my eye. BUT since I was there the vet said he would just get me spayed so when the rescue opens up in January I will be ready for adoption!!
Update 12/22: Well I have bad news!! I will not be ready for adoption until February. I tested positive for Lyme disease and am now under going treatment!
Update 1/17: Well I have a bit more bad news! I require at least a 6 foot fence and someone to be home with me pretty much 24 hours a day, since I do have some separation anxiety.
Update 2/04: I have some great news!!! I am NOW available for adoption!!!
Update 3/13: Grandma and I were talking about people the other day and she was explaining to me how most people see a picture and assume they know that dog and people think they "love" that dog just from a picture!! When I first came to the rescue everyday people would call or email saying they "HAD" to have me they could not wait till I was ready for adoption yet here I sit!!! Many even got nasty because Grandma said I had to be spayed and completely vetted PLUS I had to stay here at least 30 days to be evaluated!! These things are what this rescue does to make sure every person adopting knows as much about the dog as possible, that means they can better match us up with the right home!! Well to me it sounded great, finally someone that cared about me and what was best for me!! Grandma even showed me comments that people had made about how my previous owners had to have been looking for me! What a JOKE!!! My owners had taken me out onto a rural road in Fairfield County and threw me out to fend for myself!! They made sure I was so far from home that I could not find my way back home!! Humans need to realize not that many dogs run away from home and the ones that do have a good reason to run!!! NOW, ya want to why I was thrown out to fend for myself? Simple, I have separation anxiety and I so want to be with humans that I will jump a 7-foot fence to get to people!! I NEED to be loved; I NEED to have humans with me!! I should hate people after what they have put me through, but I don't, I LOVE people!!! Actually, with the stability the rescue has provided me and all of the love I am getting, I am getting better with my anxiety, and I am chewing the woodwork less, and less but this all took time!! Time that my forever home will also have to be willing to put into me! NOW, I hope you have taken the time to read my story and hopefully you will realize that the waiting period this rescue requires of all of its dogs is what is best for us the dogs and you the adopters!! OKAY NOW, who is willing to always be home with me and or have a dog sitter come stay with me while you go out and who wants to be outside with me in the rain, snow, sleet or sunshine while I potty and yep play with me, so I get my exercise????
Please can you spare a few dollars to help the Rescue continue to help me and other Danes like me? It would be greatly appreciated. Without the Rescue who knows where we would have ended up!!
Thanks, Noelle

Picture courtesy of the Fairfield County Dog Adoption Center & Shelter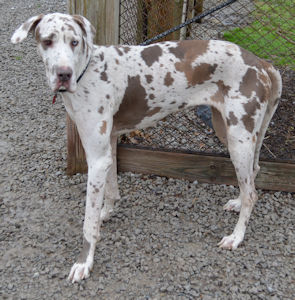 12/18
Date of Birth: 12/2019
Description: female, chocolate merle, natural ears
HHGDR Suggests: Obedience Class, 6' fence REQUIRED
Good With: Dogs, Cats, Adults, Older Children - Has Separation Anxiety
All images and text on this site Copyright © 1998-2023 Harlequin Haven Great Dane Rescue, Inc. unless otherwise credited. Use of any image or text without written permission is expressly forbidden. All rights reserved.