Iago
Pronounced ee-AH-go
Interested in adopting me? Click here for our >> Adoption Procedures
I was a cruelty case in Brown County!! For years the neighbors and people driving by would call the County Animal Shelter and the Dog Wardens would come out and look at me and my owner would tell them some story about how i was being treated by a veterinarian etc. etc. etc.. Well truth be known I was not receiving ANY medical care!! For years I chewed and chewed on my legs!! My legs ached from my chewing but I could not stop!! I lived outside on a porch with a wind break and a little straw to lay on, no toys to play with, nothing. Then in May a person saw me and again called the Brown County Animal Shelter and little did I know there is a new Dog Warden in town and she was NOT happy to see my condition!! Heck my owner did not even know how old I am!! He told the dog warden one time I was 13 years old and later told her I was 11. Little does he know I am not that old, not even close. She gave my owner a warning and I really thought I would never see her again but BOY was I wrong!!! A couple days later the Dog Warden showed up with a court order to take me!!! The first thing she did was took me to a veterinarian to start my medical care then I was brought to Harlequin Haven to receive continuing medical care and most of all the love and kindness I so craved and deserved! I had not been around other dogs so the other Danes here were kinda scary but I quickly learned they were just wanting to be my friend and let me join in on the Dane games! Grandma here at the rescue gave me all types of toys and chew stuff to distract me from chewing on my legs and when she wasn't around to watch she gave me clothes to wear!!! FYI, I love wearing clothes!! I have stopped chewing my legs but unfortunately the scars will be there forever to remind me of where I came from and the abuse and neglect I suffered for all those years
Now that I no longer have to worry about my previous owner coming back for me and I legally belong to Harlequin Haven I received my new name!!! I was so excited!! My new name is Iago, I am named after 2 early Welsh Kings of Gwynedd. It is also the name of the villain in Shakespeare's tragedy 'Othello' (1603). But don't worry I am very sweet and loving and in no way am I a villain.
Grandma says I am one of the sweetest dogs and that I deserve a special home but she does tell all the other Danes that too!!! I think she just loves us all!! Grandma did tell me that I can tell you what type of home I want, so here it goes!! I want a home where my family will give me hugs, kisses and snuggles daily!! I want to have soft beds throughout the house and I want to be able to get on the furniture or in bed with my family if I want!! I want to make up for all those lost years!!
I want to take a moment to Thank all the wonderful people at the Brown County Animal Shelter for giving me a chance at a real life!!
Because I was a court case my story and pictures are just being shown: Below are pictures of my journey to where I am today. First are pictures of my legs taken the day I arrived at Harlequin Haven. Then of course Grandma took pictures of me with my clothes on and yep a toy!! FYI, I love toys!!! The 3rd is me enjoying the love seat and next are the pictures of my legs today!! What a difference a few months and lots of love makes!!
Update 11/12: I am NOW ready for adoption!!! I am sooooo handsome!!
Update 6/20: Why do people only want me for my looks?? Yes I am handsome but GEE does no one want me for my brains??? Probably not because they would find out I am smarter then them!!! Check out my new pictures below!
Please can you spare a few dollars to help the Rescue continue to help me and other Danes like me? It would be greatly appreciated. Without the Rescue who knows where we would have ended up!!
Thanks, Iago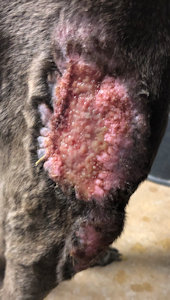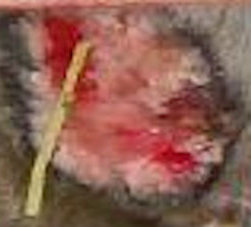 5/13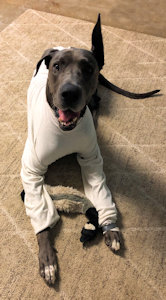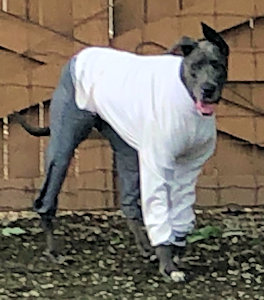 5/31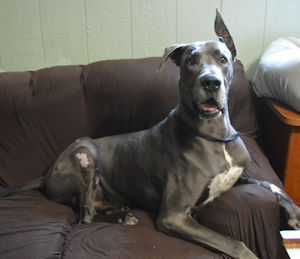 10/12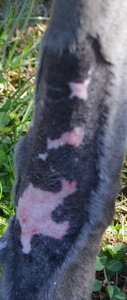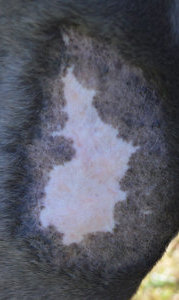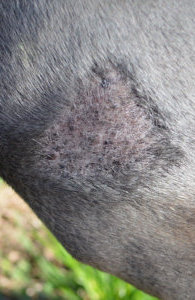 10/20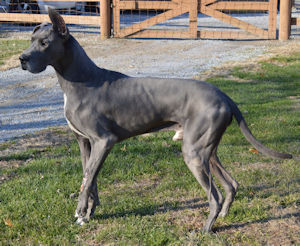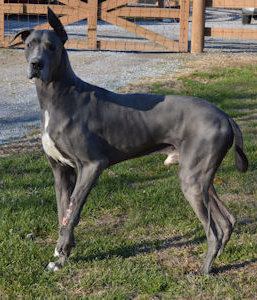 11/16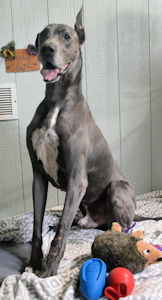 12/16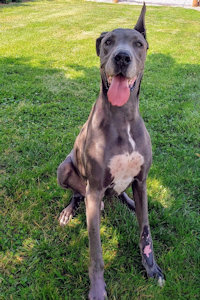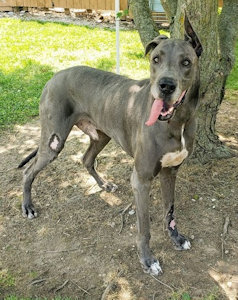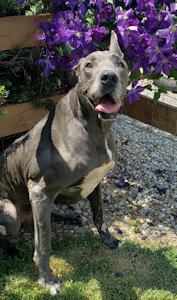 6/20

Date of Birth: 10/2014
Description: male, blue with white marks, cropped ears
HHGDR Suggests: Obedience Class, No Small Children
Good With: Dogs, Cats, Adults, Older Children

All images and text on this site Copyright © 1998-2020 Harlequin Haven Great Dane Rescue, Inc. unless otherwise credited. Use of any image or text without written permission is expressly forbidden. All rights reserved.