Bryce
Interested in adopting me? Click here for our >> Adoption Procedures
Bryan and I were thrown out in Cheviot to fend for ourselves but after dodging cars for several hours the wonderful Cheviot Police Department was able to get us both to safety and handed us safely over to the dog warden at Cincinnati Animal Care. It is apparent that our owner was either unable or just not taking care of us as we both are at least 30 pounds under weight.
As soon as our stray time was up Harlequin Haven was there to pick us up. We now are sleeping on soft beds; we have tons of toys, and we are eating 5 meals per day!!! I sure do love getting 5 meals a day. Unfortunately because we were so undernourished and stressed we both got kennel cough. We are being treated for it now.
Update 11/24: Hey I may have been starving but I am still proud and regal.
Update 12/2: I have finally gotten over my kennel cough and am just working on gaining weight. Well actually I am playing a LOT!!! I have so many toys and I have yet to figure out which one is the most fun!! PLUS, Grandma said Santa would be coming and he would bring me more toys!!! I only have 1 question who is Santa?
Update 12/17: I only have maybe 5 pounds left to gain and then on January 10 I will be neutered! Although I do not understand the neutered part I sure am enjoying gaining weight!! I am counting down the days until Santa comes, although I still do not know who he is it does not matter as long as he brings me more toys!!! Have I told you I LOVE TOYS!!!
Update 1/15: Well I have gained all my weight and I have been neutered and I got a bunch of new toys from Santa and life is great!! NOW all I need is a forever home!! Grandma says she can describe me in 1 word "Happy"! So if you want a Happy boy you want to adopt me!!
Please can you spare a few dollars to help the Rescue continue to help me and other Danes like me? It would be greatly appreciated. Without the Rescue who knows where we would have ended up!!
Thanks, Bryce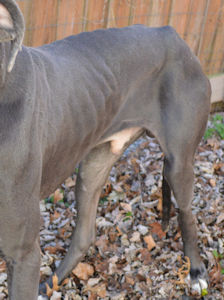 11/23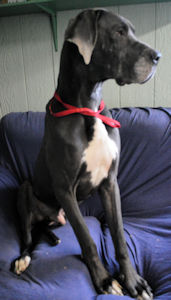 11/24

Date of Birth: 11/2020
Description: male, blue with white marks, natural ears
HHGDR Suggests: Obedience Class
Good With: Dogs, Cats, Adults, Children
All images and text on this site Copyright © 1998-2023 Harlequin Haven Great Dane Rescue, Inc. unless otherwise credited. Use of any image or text without written permission is expressly forbidden. All rights reserved.