Bebe
What is a happy ending? Can I have one? YES I can!!!!
My story is long for a short life. I almost died from dehydration -- the neighbors were upset because I was constantly roaming the streets and begging for food, so someone decided to put me out of my misery and fed me poison. I cost my owners over $400. I had never been to the vet except when I was about to die, not even when I gave her a litter of puppies. She told the rescue about my babies and how she sold them for $400 each. Unfortunately that money was not spent on me!! I do hope my babies were sold to homes that will take of them. What I really hope is that I never have babies again. I did my best, but it was so hard to find enough food. Even after giving her babies I continued to live outside in a hole underneath a trailer and was still left roaming the streets to find food and shelter

While roaming the streets I was hit by a car over a year ago and left with an untreated broken pelvis. Because of my injuries I have had to drag my foot to the point of wearing my toes away! Also I am nothing but skin and bones, and was filthy dirty when brought to the rescue.

My owner called HHGDR asking if the rescue would take me in. HHGDR immediately said "yes," and my owner said she would call back to set a time. I finally arrived several weeks later on a Friday evening, but I do not think the rescue was expecting to see what I looked like. My owner had not told them of the degree of my injuries.

The woman at the rescue told me that she was my new grandma, and that the rescue would call to get me an appointment to see Dr. Steve Schrader, an orthopedic surgeon, to figure out what could be done with my leg and paw. I hope he can help me! I do my best to keep it clean by licking it, but the taste of blood and infection is giving me a sour belly. Grandma told me not to expect to be able to keep my leg or paw because of the amount of damage and infection.

So far my time at rescue has been good, I have a soft bed to lie on, and I have had a bath and my fleas removed. I am served 3 meals a day and antibiotics for the infection. I have never been inside a home before so this is a new experience for me!! I now have an appointment for Wednesday, May 19.

Can you please help me? I am in a very sweet and loving girl and would do anything not to hurt constantly. I've heard Grandma say no dog deserves to live every day in pain. I sure hope she means me. I cannot even get up to go potty without my paw bleeding and causing excruciating pain.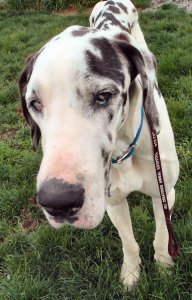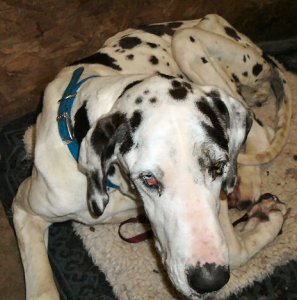 Update May 20: My Grandma was so worried about me that she called every surgeon she could find from coast to coast to help her make the right decision for my leg. It was agreed that there was little hope that my leg could be saved, and Grandma had to go along with the experts. I do wish that she wouldn't worry so much about me. I wish I could tell her that I will be fine no matter what she has to do for my leg. It has been too long since I was hit by the car, and too much damage was done. Dr.. Dan Meakin amputated my leg at noon on today. Grandma stayed with me and held my paw through the whole ordeal. Now I am home recuperating. Grandma is taking real good care of me, and I feel safe for the first time in my life. I know I have a long road ahead of me. I have to learn to walk on three legs, but I know Grandma will be with me every step of the way. Watch for my updates and keep me in your thoughts during my recovery. Update May 21: I have taken my first steps, and although it is very painful, I realize that it won't last long. Soon I will be free of the pain I have had to live with since I was hit by that car. My Grandma says I am doing wonderfully, and that as soon as the hydro pool is installed I will get to go swimming. She says that will help to rebuild muscle that has wasted away because I could not walk properly. Unfortunately we have not yet raised enough money to cover the cost of my surgery nor the hydro pool.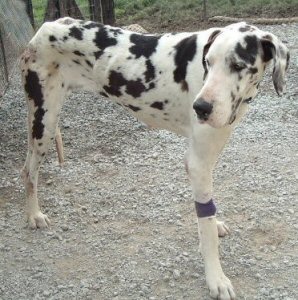 The surgical and wound pictures are graphic so if you have a weak stomach do not open!!
Click here>>>Pictures of my leg before and after surgery<<<
Click here>>>To view the surgery<<<
Update May 26: Sorry I have been so slow to update you on my recovery. I have been enjoying the pain free days that I thought I would never feel again. I will have Grandma take pictures of me today so you can see that the sad face I used to have is gone forever!! Yesterday Aunt Thelma came to visit and she said it was worth it to drive 500 miles to see the smile on my face and to watch me run across the yard! Updated June 14: Well today was my first time in the pool. Grandma says we can't wait so we went for a swim. I got to watch Donny first and I laughed as he sunk!! But ya know it is not as easy as it looks!! It did feel good though!! Hopefully soon Grandma can get pictures of me swimming but right now she is busy in the water helping me to learn to swim!! Updated July 1: I went yesterday to be spayed and well it appeared all went well till this AM. I was dripping blood pretty bad and you could see where I had a belly full of blood. I was rushed back to the vet and I had to have another surgery. I am now waiting on results of the blood work to see if I have a bleeding disorder. Updated July 8: The test came back negative so I am safe and a healthy young lady now!! I am now ready for adoption. Updated July 14: Well my spay stitches are gone and I am back to swimming, this time Grandma took my picture so I could share them with you all!!! Click here>> to see me swim. I love the new life jacket that Kristina sent us, even though Donny says it is his, grandma told him he has to share!!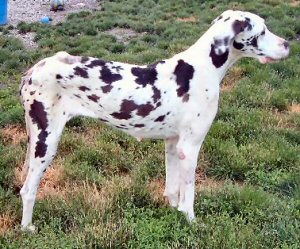 It sure feels good not to be in pain anymore!!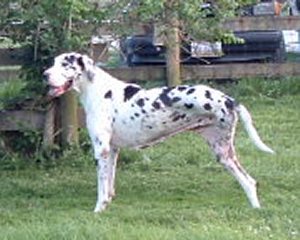 I am beautiful aren't I???
Update July 24: My prayers have been answered I have been adopted!! My new mom and sister came to get me today!! It was love at first sight!! I cannot believe that in such a short time I went from being in constant pain to being pain free with a new life and family!!! Updated August 6: I have returned to the rescue. Unfortunately what we thought was my forever home really wasn't. It was not that I was not loved or wanted but I need a home that can spend more time with me. Until I came to the rescue I spent my life by myself or occasionally with another dog, now that I have had human companionship I want more of it!!! I want a home that someone is home most of the time. I understand someone can not be with me 24 hours a day but 20 hours sure would be nice!! Please put me back in your prayers so that I find my forever home. Updated August 25: I am doing great, I go swimming with Donny occasionally not that I really need to anymore but because he is such a brat and demands that someone swims with him. I also moved to Grandma's house so that I could be closer to her. She could not believe that I dug a 2 foot deep hole and crawled under the fence and was waiting for her to open the door. I really like having a human around all the time. Update September 17: I know many of you want to adopt me because I am special and so beautiful but I do have my special needs. I must have a family that is home most of the time, I want a lot of attention, Grandma says I am very needy, I don't call it needy I call it hummmmmm okay maybe needy is right!! I love being petted and rubbed I love being part of a family, I love to snuggle in the bed with my humans, I love following people around no matter what they are doing. Okay to be honest I went from never having a human around to having one and I want as much attention as a human can give me, I have 4 years of no attention to make up for and I plan on making up for every minute!! I am very good if I get what I want, yes I am talking attention and I will be the perfect dog for a family that meets my needs and wants a spoiled girl!! I also do not want a ton of steps to do on a regular basis, I want to use that energy for climbing in bed so my humans can snuggle with me!! BTW, if you try to keep me out of the bed I will poke you with my nose all night till you give up!!
Date of Birth: 5/00
Description: female, harlequin, natural ears, left rear amputated
HHGDR Suggests: Obedience Class
Good With: Dogs, Adults, Children, Cats
All images and text on this site Copyright © 1998-2019 Harlequin Haven Great Dane Rescue, Inc. unless otherwise credited. Use of any image or text without written permission is expressly forbidden. All rights reserved.