Dion
We (Skylar and I) came from a backyard breeder (Jamie Lee Chandley - Midnight Acres) in Lorain, Ohio and was a cruelty case. Click here > to access our owners court records. Life was never the best, we have always lived outside in a dog run, but it really went bad in the last several months. Our owner stopped feeding us and caring for us and because we were in the dog runs we could not even attempt to help ourselves. Luckily on Christmas Day some wonderful Police Officers arrived and needless to say when they saw us they were shocked, we were freezing to death in a outside dog run with no food or water and were covered in feces! They immediately rushed us to the Vets office to start life saving treatment, I weighted just 92 pounds when I should have weighted closer to 130 - 140 pounds. Unfortunately it was to late for Foxy (Skylar's mom) she died just days later at the vets office.
We both still have weight to gain and to be heartworm checked, wormed, vaccinated, altered plus we also need to learn what love and proper care are and that it is here to stay. Grandma here at the rescue says I will never know neglect again!
We want to thank the Lorain Police Department, Lorain Animal Clinic and the Friendship Animal Protective League. Without each and every one of you we would not be here today!
These stories and video's will not be here long so read and view them now.
Click here > To read about us. Click on the blue links below the story to read previous articles.
Click here > To view the video and read about us the day we were rescued
Click here > To view the update on December 29th
Click here > To view the last video and story before we came to rescue.
Update January 15: Today I was heartworm tested, given my first vaccination and weighted. I weigh 92.2 pounds, someone's scale must be off they checked the one here and it checked out correct. If all scales are correct I have only gained 2 ounces since I was rescued. Grandma says I am a gentleman and a great dad!!! I am keeping a close watch on Skylar to make sure she is okay!
Update January 24: We were wormed last week and that really seems to have helped. I feel better and when I was weighted yesterday I weighted in at 99.2 pounds. Not a huge gain but hey I am headed in the right direction! We still are being fed 5 times per day and even had an increase in our food, not much cause grandma says she doesn't want us to get sick!! I love eating!! Of course being inside with a soft bed and toys is pretty great too!!!
Update January 29: I got weighted today I now weigh 105.8, I still have a lot of weight to gain but it sure is fun gaining weight!!
Update February 6: I continue to gain weight I now weigh 112 pounds and grandma says I am doing a good job. I have asked Grandma to take a new picture of me soon so you can see how much better I look! Well time to eat!!
Update February 14: Although I still have a few more pounds to gain I really look much better. See my new pictures below!! I am going to be one handsome Dane when I gain all my weight!!!
Update February 21: Well I now weigh 121.8 pounds and just need a few more pounds to be at my perfect weight!!
Update February 28: I now weight 125.2 pounds and grandma says I am at my perfect weight!! Now to be neutered so I can find my forever home!!!
Update March 7: I was neutered this week now I am ready for my forever home!! Grandma says I am perfect but we all know she is a bit prejudice!
Please can you spare a few dollars to help the Rescue continue to help me and other Danes like me? It would be greatly appreciated. Without the Rescue who knows where we would have ended up!!
Thanks, Dion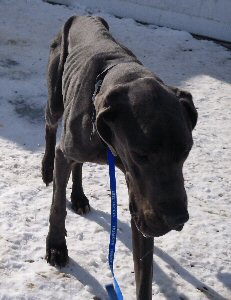 1/14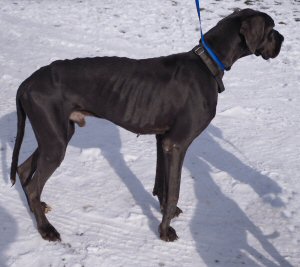 1/14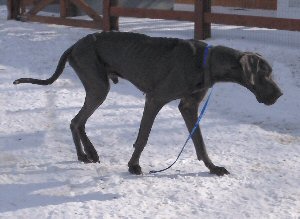 1/14
1/14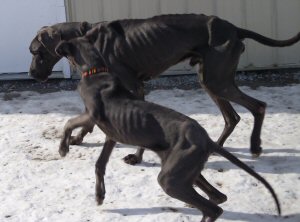 1/14
1/14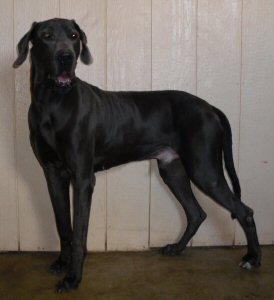 2/13
Date of Birth: 1/2007
Description: male, blue, natural ears
HHGDR Suggests: Obedience Class
Good With: Dogs, Adults, Children, Cats

All images and text on this site Copyright © 1998-2021 Harlequin Haven Great Dane Rescue, Inc. unless otherwise credited. Use of any image or text without written permission is expressly forbidden. All rights reserved.