Harlequin Haven
Great Dane Rescue

11567 St. Rt. 774
Bethel, Ohio 45106

Open By Appointment Only
info@hhdane.org

Help the dogs with a tax-deductible donation today

-
-
-
Gracie
January 15, 2003 - April 12, 2012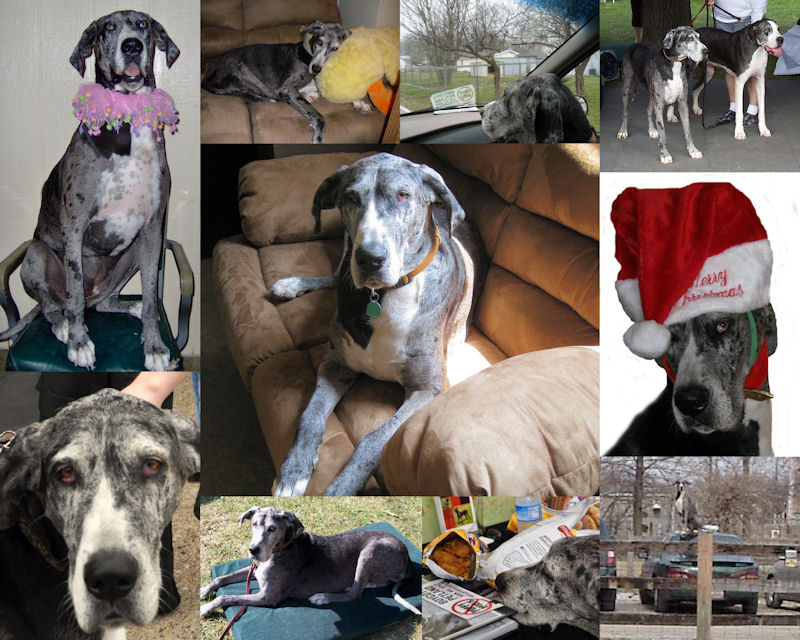 Special Tributes
When you came to the rescue more then 7 yrs ago, no one knew the impact you were going to make upon us.
You became my best friend, my confidant and constant companion. Although thousands of dogs have
come into rescue, none were as special as you, and there will never be another Gracie. I only wish I had
one more day to spend with you, just one more trip to McD's, just one more......
Gracie, you will be forever in my heart and my memory, and you will always and forever be my best friend.
Love always & forever
Mom aka Grandma & Dad

Gracie, you had such a strong presence in all aspects of the rescue. Always there to say good-bye to us when we left.
Probably making sure we "got the hell" off your property! We'll miss you, Gracie Girl.
Judy & Tom

Gracie, I got to know you pretty well on my visits to the rescue, and always admired the way you ruled the office with such
self assurance. I was never very sure that you took much notice of me, though. Then one day I attended one of
Mo's events, and you came up to greet me as I arrived. I felt honored that you remembered me. Gracie your devotion to
your Grandma/mom was total. The rest of us were OK, but being with Grandma was your world.
Nancy Marconett
Gracie, You gave your Mom all the love anyone could ever want and you even tolerated us volunteers. All the vets are
going to miss your 'advice' and so are we. You were truly one in a million. Keep an eye on us down here and say
hello to my girls when you see them. Rest in peace.
Always your friend
Sandra Seidman

Gracie you were a Harlequin Haven Institution and you will be greatly missed.
Amy Young

Gracie you were a great companion to the rescue and will be missed.
Stacey Kienle

Gracie, you were such a sweet spirit, you will be greatly missed.
Jo, Kenny, Mylee, Mimi & Coco Williams

Gracie you were one of a kind - there will never be another like you. Those of us who knew you, knew exactly what
I am talking about. You could look at you with one glance and knew exactly what you were thinking, and more often
than not it was not nice! The term "best friends" doesn't even come close to describing the relationship
between you and your mom. You were soul mates. Gracie you left a void that can never be filled...........
Beth Mack

All images and text on this site Copyright © 1998-2023 Harlequin Haven Great Dane Rescue, Inc. unless otherwise credited. Use of any image or text without written permission is expressly forbidden. All rights reserved.