Thank You Santa
From the homeless dogs at Rescue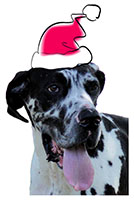 Dear Santa,
We want to thank you for all the wonderful gifts again this year!! We also want to thank you for reading our letter! Without you, Mrs. Claus and your wonderful Elves it would have just been another day but because of your generosity we are having the BESTEST Christmas ever!! Heck for some of us it is our first Christmas with presents ever!
Many of the dogs did not believe in you Santa, many thought we were telling them a story to get their hopes built up, you know, like their owners did when they told them they would keep them safe and forever, but you showed them! Noelle thought you would not find her since she had just arrived but Grandma told him she had emailed you and she would not be forgotten and Santa you kept your word!!! Of course Faye, Kiki and Kristina thought because they were young that they would have their forever homes before Christmas but that was not meant to be!!! We are all so happy though that Harry, Ihan, Lisa, Jolene and Truck received their Christmas wish and have wonderful forever homes!!
We thought we would be lucky to receive 1 gift each but instead we received several each and plus tons of Christmas cookies and chewies. We love all the new Cuz's and the wonderful Wubba's,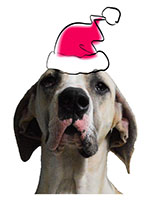 Nylabones, Rope toys, Bumi, Hurley, Huck's, and new blankets!! We know that you realize that some of us have enjoyed your Christmas gifts here at the rescue for several years now and we know that the rescue will be the forever home for some of us. But because of you, we all do believe that dreams can come true. You made this Christmas so special for all of us homeless dogs at the Rescue!! We greatly appreciate all you have done for us again this year.

Santa please let all the wonderful people that donated to help the rescue throughout the year and this holiday season know how much we appreciate them as well. Without there generosity the rescue would not have been able to afford to save many of us. We don't want anyone to think we do not appreciate what they do for us, because without them there would be no rescue to have saved us and the many dogs to come in 2022.

Thank you from all the homeless dogs at HHGDR
Have a Happy Holiday
Hugs and Slobbers
All the dogs at HHGDR

All images and text on this site Copyright © 1998-2022 Harlequin Haven Great Dane Rescue, Inc. unless otherwise credited. Use of any image or text without written permission is expressly forbidden. All rights reserved.